About The Course:
The primary goal of burn wound care is to provide comfort to the patient, eliminate risks of infection, stimulate healing, and maintain functions of the affected area. This step-by-step guided program on Burn Wound Care by MedVR Education helps nurses practice the steps involved in caring for burn wounds.
Learning Objective:
Removing the old dressing while taking care of all hygiene precautions
Washing and cleaning the wound with utmost care
Applying ointment and fresh dressing on the cleaned wound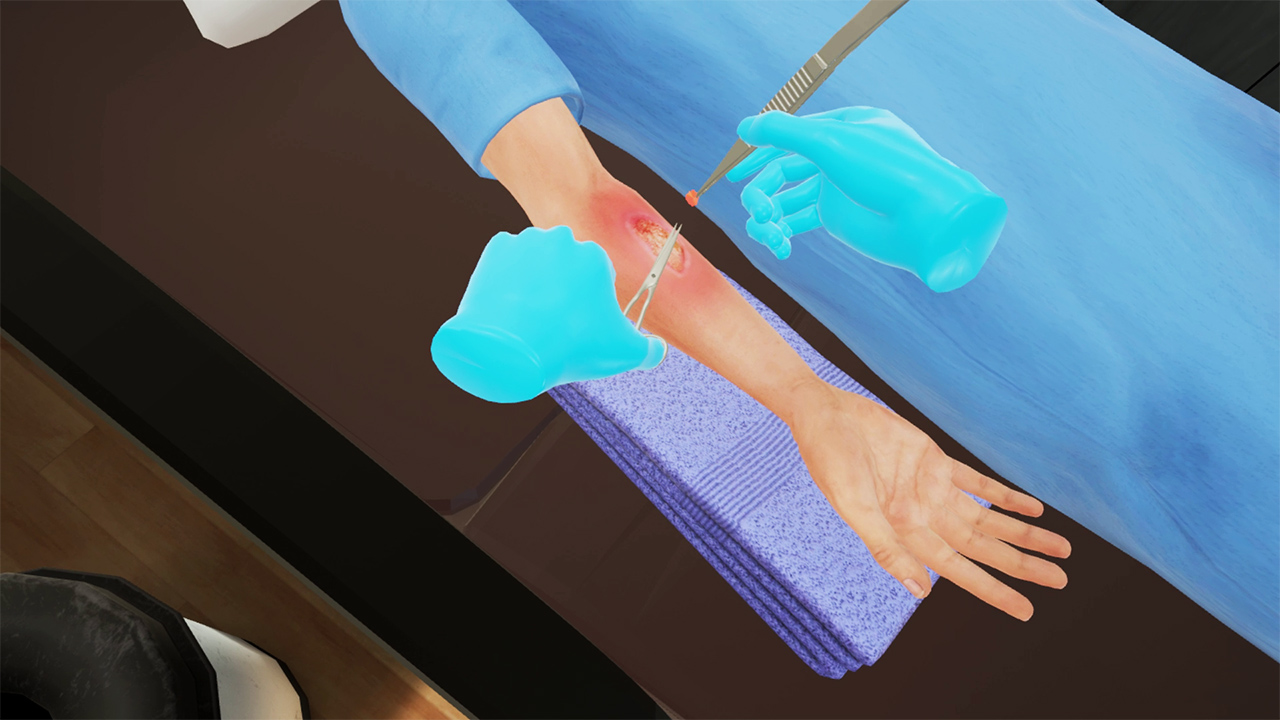 Reference:
Developed in alignment with  AACN Procedure Manual for High Acuity, Progressive, and Critical care (7th ed.) Wiegand, D.L. (Ed.). St. Louis: Elsevier (2017).
Customize Your Program
Get rid of the editor. Adopt in-VR customization.
MedVR Education is bringing to you in-VR customization that will enable you to customize your procedural simulations by making selections from a range of feature choices.
Select patient from a diverse background
Choose preferred virtual environment
Select equipment used in the procedure
Modify difficulty level of the assessment mode
…..many more to come
Core Skills Training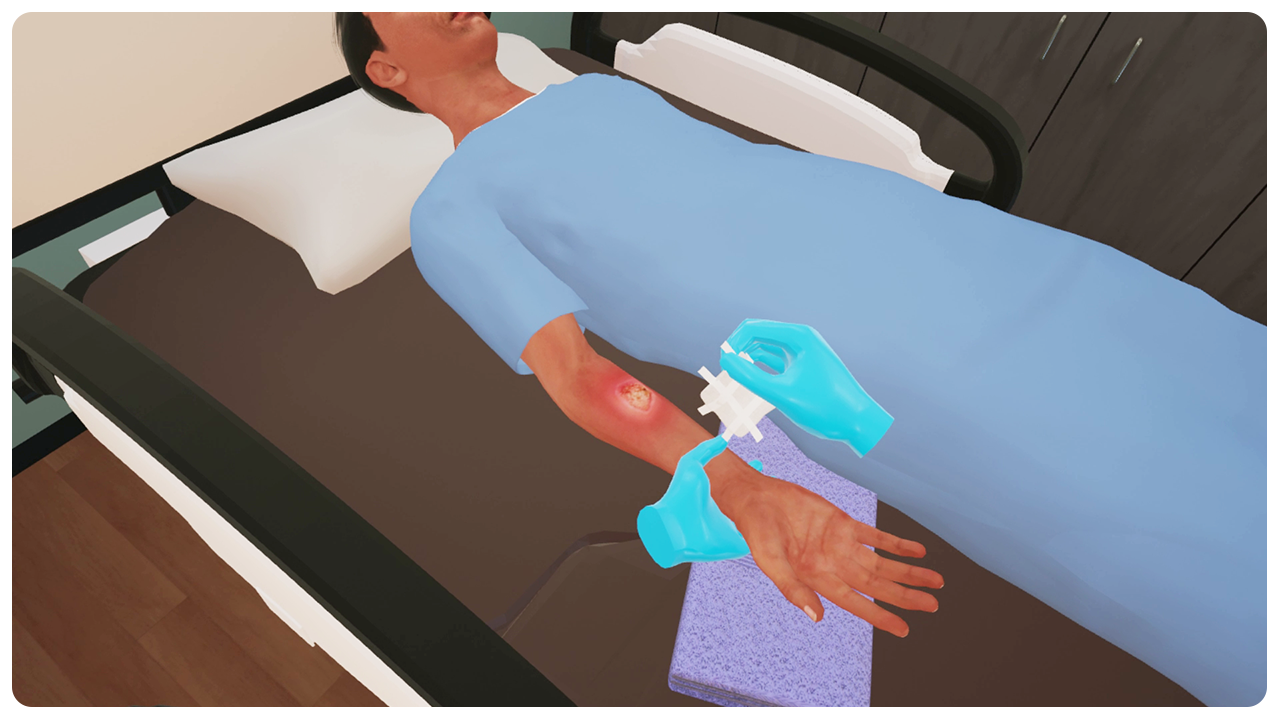 Removing Old Dressing
Hygiene standards must be maintained when removing the old dressing. At the same time, it is important to avoid any kind of discomfort to the patient. Performing these tasks with efficiency requires practice. This module focuses on the steps involved in removing an old dressing from a burn wound. Since every step in the process is important, the activity is designed to encourage the learner to perform all the steps, making sure that none are missed out. Adequate affordances are provided to ensure efficient execution and practice to help prepare for real-life scenarios.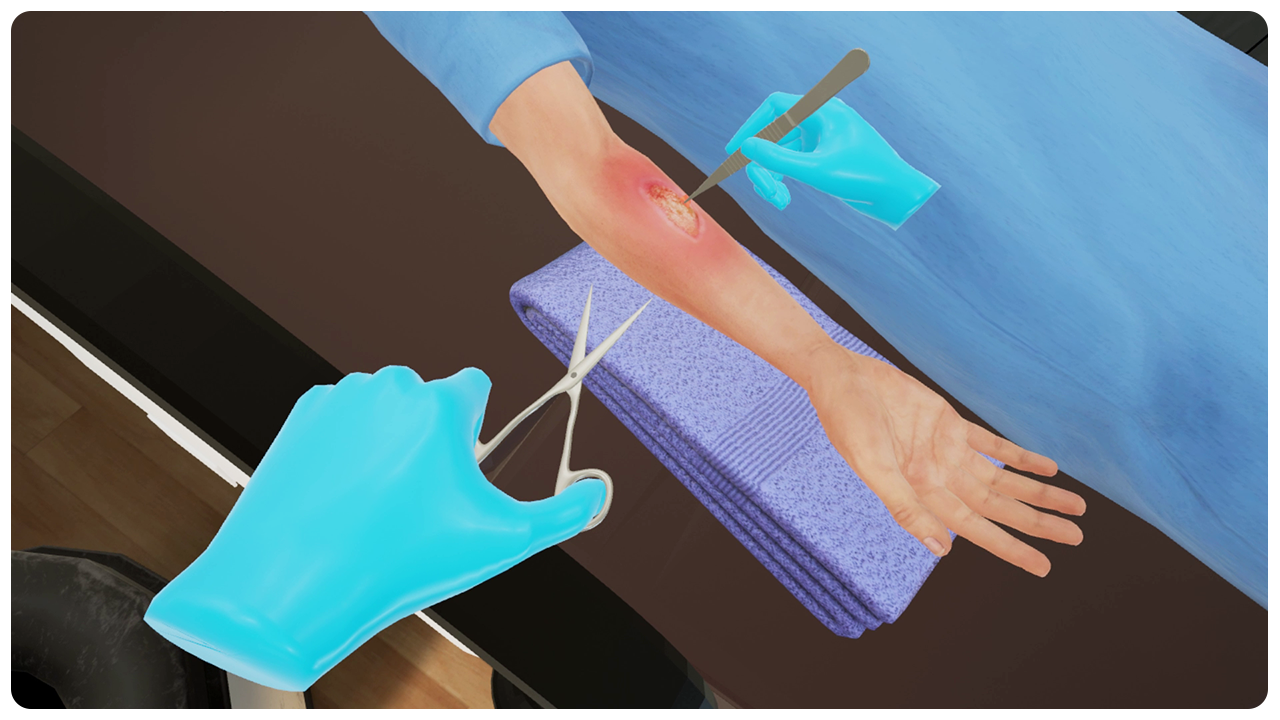 Washing and Cleaning the Wound
Once the old dressing has been removed, the wound needs to be inspected, washed, and cleaned. Proper washing and cleaning are very important before applying a fresh dressing. This module is designed to provide nurses practice in the task of washing and cleaning burn wounds after the old dressing has been removed. Once again hygiene standards need to be maintained and, to emphasize on this aspect, appropriate affordances are included in the module. As the activity is performed on a virtual human, the learner gets a realistic practice session which helps prepare for actual patient care tasks.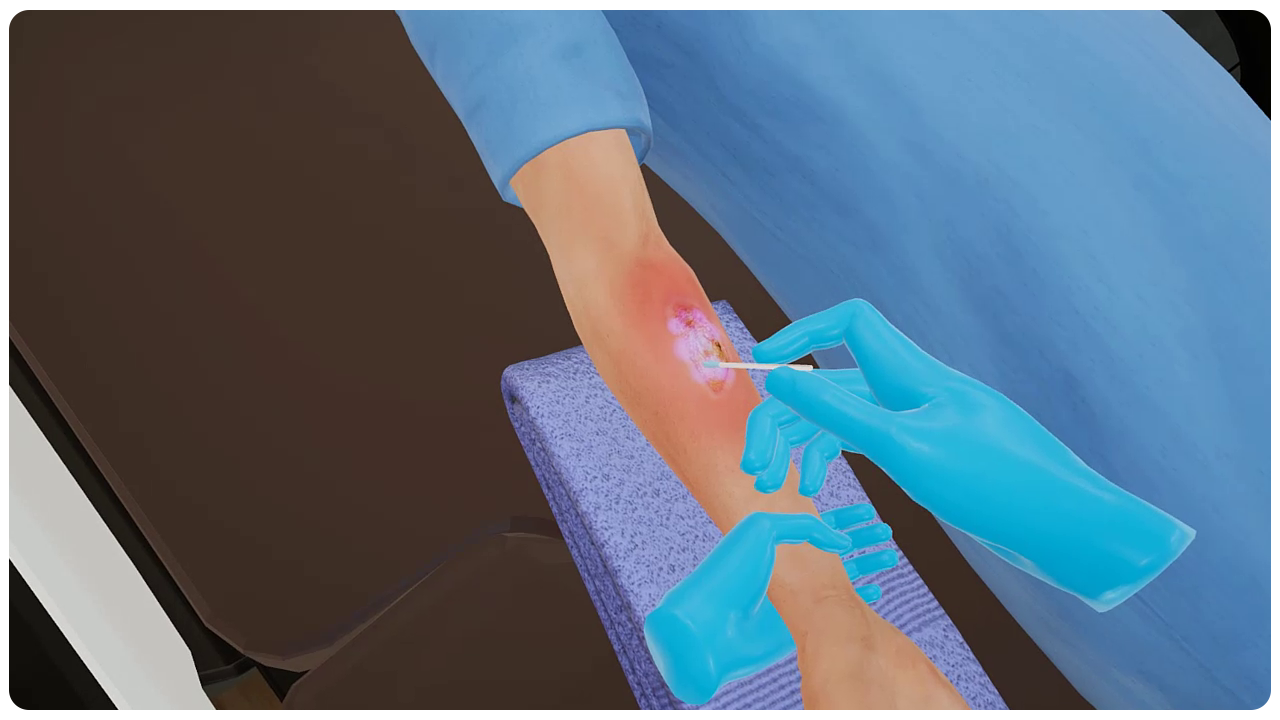 Applying Ointment and Fresh Dressing
Burn wounds leave the skin sensitive which makes it important to handle the affected area with a great degree of care. Having cleaned the wound and removed necrotic and broken blister tissues it is time for redressing. Ointment, if required, must be applied with extra care to avoid pain and discomfort followed by a gauze pad and layers of gauze to provide protection to the wound area. Learners, in this module, practice applying ointment to the wound area followed by a gauze wrapping exercise. Practicing this process is important as a gauze needs to be applied in a manner to protect the wound from further damage and infection and assist in the healing process.
Training
With prompts, guidance and affordances learners are hand-held through the process to practice the procedure in a virtual environment with a virtual patient.
Photorealistic Virtual Environment
Physics-based Interactions
Learn by Doing
Visual Affordances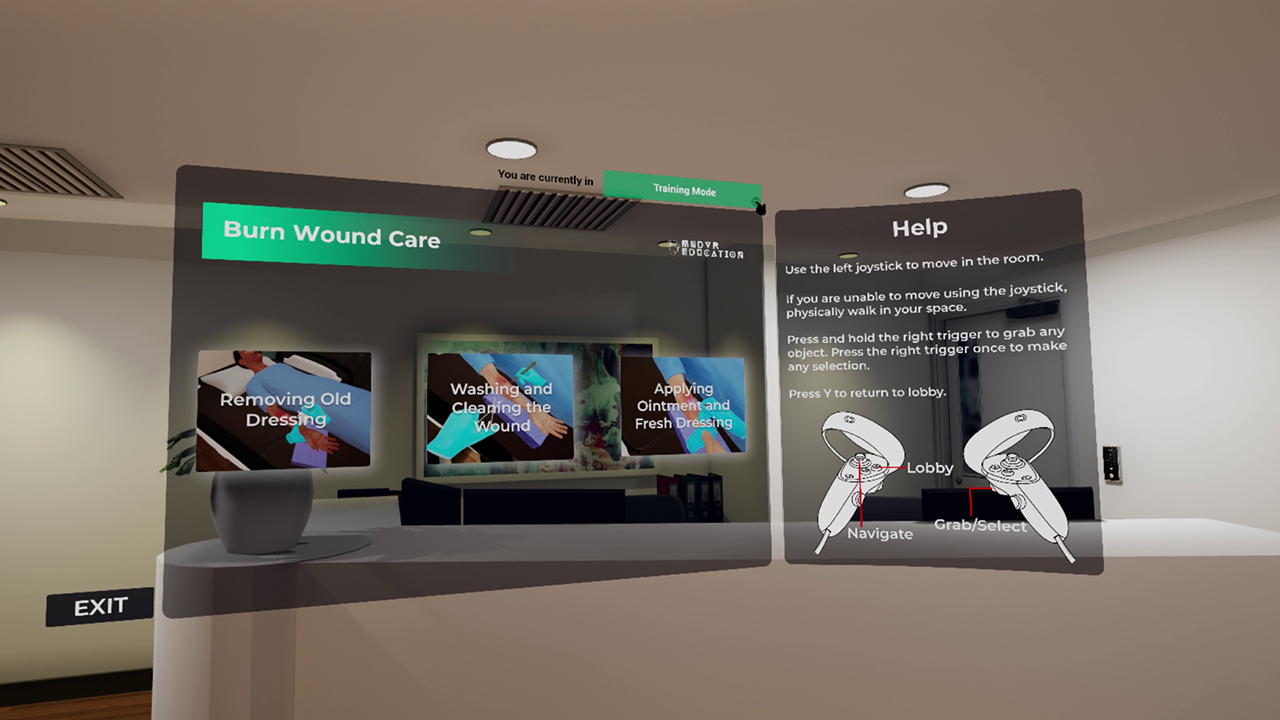 Assessment
Test skills to perform the procedures from start to finish without prompts. An incorrect step will take the learner back to the start to start afresh.
Live Scoring
Instant Feedback
Unlimited Practice Sessions
LMS Integration