With MedVR Ed's end-to-end XR training platform, you can:
Select
From a range of options, select the XR program best suited to your organization.
Manage
Manage and modify content permissions to specific users, groups and organizations.
Deploy
Remotely and wirelessly deploy XR content globally to any headset.
Debriefing
View and analyze training performance data at a deeper level.
Integrate
Integrate data with any LMS using our API.
How it works?
What you get from the MedVR Ed XR Platform:
User Management
Easily manage and report rollups by assigning users to organization units

 

Use emails or unique usernames

 

Add 'External Id' to map users back to LMS or corporate user registry

 

Create roll-based permissions for students, training manager, admin
Content Management
Over-the-air delivery of training content to headset

 

No sideloading or content juggling

 

Curated content for specific user access

 

Monitor progress and skill development by assigning courses and due dates

 

 
Platform Login Options
Login with MedVR Education credentials

 

Authenticate using OAuth 2.0

 

IDP integration
Analytics Reporting
User and Module Based Reporting

 

In-depth session debriefing

 

AI-based conversation log review

 

Active user statistics

 

Advanced reporting
API Integration
Integrate with LMS

 

Custom API integration

 

xAPI/TinCan connection

 

LTI integration

 

User data synchronization
Access a vast range of XR training content with the MedVR Ed library
Welcome to MedVR Education! We're at the forefront of creating the biggest library for healthcare XR simulation training. Here, you can dive into a wide range of XR training content covering all aspects of healthcare. From emergency scenarios to critical care and essential medical skills, we've got it all.
Our library is always growing and evolving, reflecting our dedication to keeping up with the latest in medical education. As you explore the XR programs we've designed, you have the freedom to pick and choose the solutions that best match what you're looking for.
With MedVR Education, we're breaking down traditional barriers, ushering in a new way of medical training that combines the real world with XR experiences. Get ready to reshape your medical education as you engage with lifelike simulations and immersive learning. Your journey towards medical excellence starts right here.
Manage unlimited programs with one platform
Step into the future of training management with our cutting-edge XR platform. Crafted to elevate organizational training endeavors, this platform boasts an intuitive interface coupled with advanced functionalities, empowering you to seamlessly conceive, tailor, and launch an extensive array of training programs – all united within a singular, centralized hub.
Be it the immersive realms of virtual reality (VR), the enriching overlays of augmented reality (AR), or the dynamic fusion of mixed reality (MR) content, our platform stands ready to embrace diverse XR technologies. This versatility ensures a tailored approach to accommodate various learning preferences and specific requirements, underpinning a truly comprehensive training experience.
MedVR Ed deploys content remotely to any headset around the world
The wireless feature of MedVR Ed's content enables users to access training content from any part of the world by simply logging in to the platform from a headset. With no sideloading hassle, all that users require are a headset, login credentials and an internet connection. From here on it is smooth sailing. 
Our over-the-air (OTA) deployment system ensures that you're always equipped with the latest version of our training content. No need to worry about manually downloading updates – we take care of that for you. Seamlessly integrated into your learning journey, these updates guarantee that you're benefiting from the most current and relevant information available. With MedVR Ed, your focus remains on learning, while we handle the rest in the background, keeping you at the forefront of your educational experience.
Debriefing of procedural skills
With the Debriefing of Procedural Skills, gain unprecedented access into detailed insights of every step executed, both in training and assessment modes. For example, what was the precise angle at which an IV was inserted, the depth of insertion, and other similar critical metrics that define mastery. 
Detailed insight of steps performed in both training mode and assessment mode.

Deep data analytics of every step including the time and additional metadata.

 

Individual performer data in a multiplayer session.

 

Segregated data of correct and incorrect steps performed in assessment mode.

 
Open-scenario debriefing
Open scenario simulations are all about building skills like assessing patients, conducting an evaluation, implementing treatment procedures and finally analyzing through debriefing. These scenarios provide valuable feedback for individual participant performance helping learners evolve and excel. 
Post-session debriefing data of participants.

 

Individual performer data in a multiplayer session.

 

Grouped data of correct and incorrect steps performed by users.

 

Overall analysis of individual contribution in a group session.

 
Elevating learning through comprehensive conversation analysis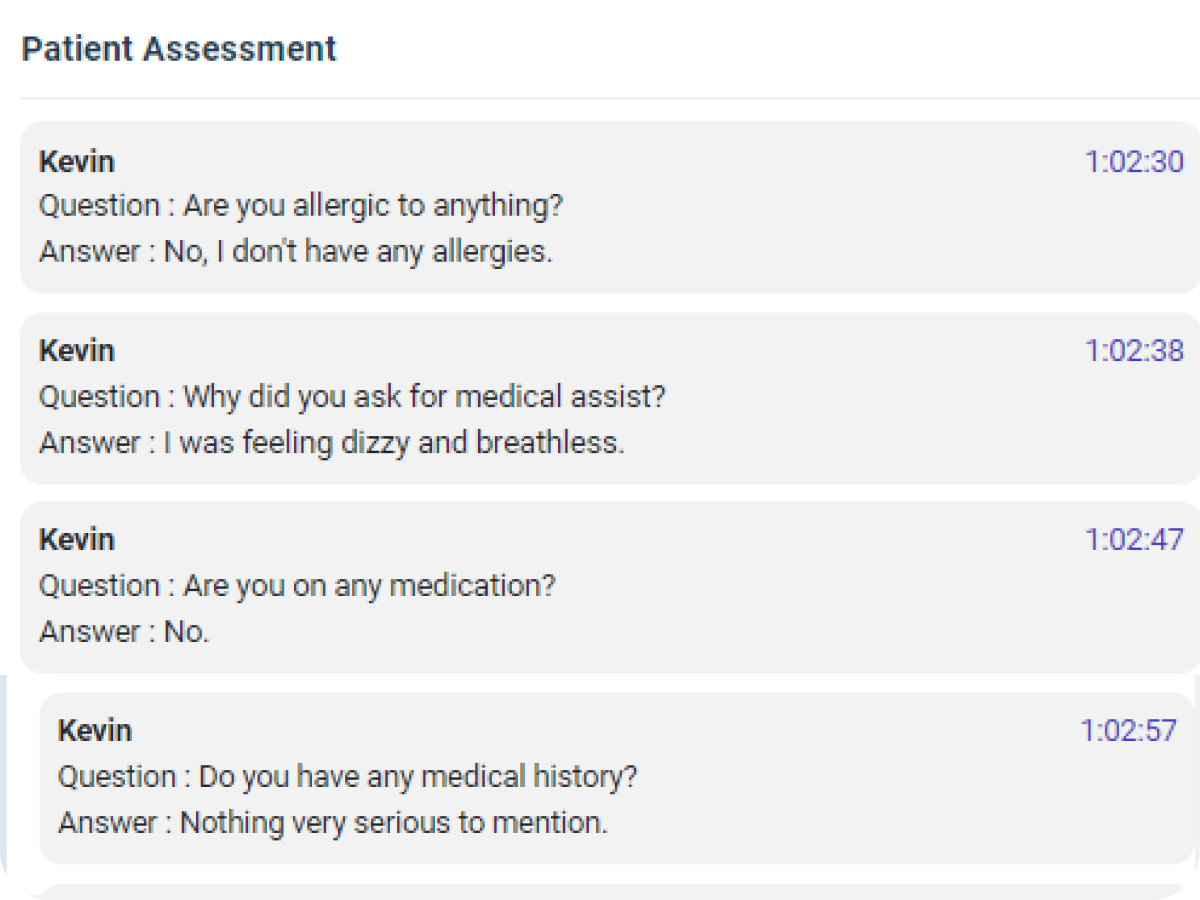 Get ready to witness a transformation in learner interactions with AI virtual humans. Introducing a breakthrough feature that takes learning to a whole new level – the Detailed Conversation Log. 
With this XR platform, gain unprecedented access to the inner workings of each virtual patient interaction. The Detailed Conversation Log meticulously captures every exchange between learners and virtual patients, providing a comprehensive record of the entire session.
Detailed conversation log with virtual patient.

 

Analysis of nature of questions asked.

 

Insight into individual contribution in group session.

 
MedVR Ed's API allows LMS integration of all programs
Recognizing the significance of a holistic perspective on your organization's training endeavors, MedVR Ed offers an impactful solution: our robust API. Seamlessly integrating with your current Learning Management System (LMS), this API smoothly combines all training data originating from the MedVR Ed platform. 
This integration gives you a powerful advantage. It provides essential insights into how each training program is performing. With this valuable data at your fingertips, you can make informed decisions to enhance your organization's training efforts. MedVR Ed's API isn't just about technology—it's a smart way to make your training strategies even better. 
MedVR Education allows enterprises to reap the benefits of virtual reality training
Reduced Turnaround Time
Increased Learner Engagement
Minimized Training Time
Increased ROI
Reduced Training Cost