Scope of VR medical simulation training
Virtual Reality Medical Simulation is one of the most efficient ways to understand and learn a skill. In the field of healthcare, this practical training is of crucial, importance as lives are at stake here. While mannikins and cadavers have been the means of training for a long time, VR medical simulation training is bringing about changes in the training methods and outcomes. 
Be it any field of healthcare training, VR simulations are proving to be highly effective. With the introduction of haptic feedback, the training quality is reaching new heights.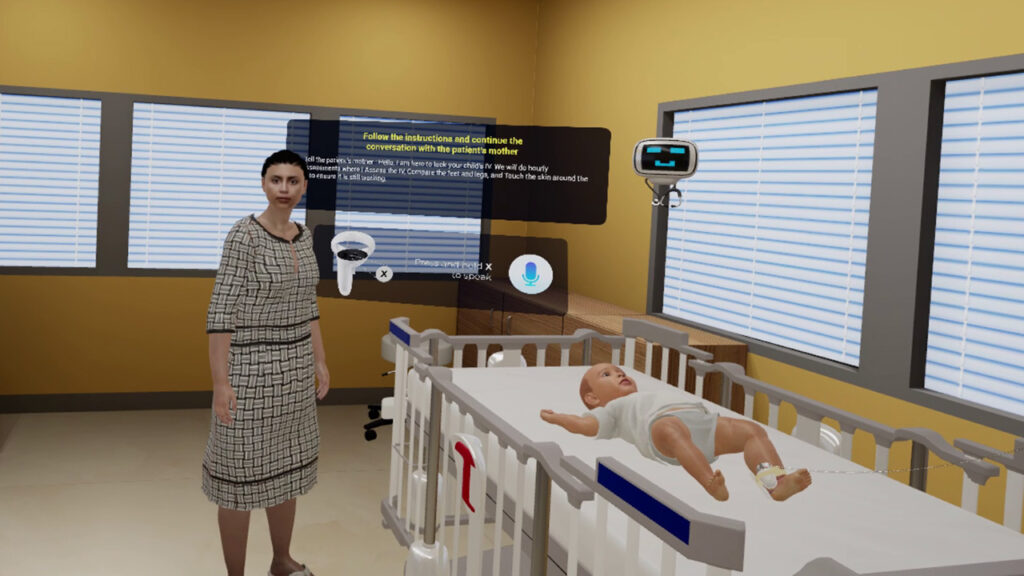 As part of a VR medical simulation, learners are placed in virtually simulated photorealistic environments. They are provided adequate affordances to perform and practice tasks as one would do in a real-life situation. Almost all departments in a healthcare facility can benefit from VR training, helping hone skills, build confidence as well and meet the increasing requirements. 
Surgery: Surgery requires precision, care, caution, and confidence, along with a lot of practice. This can only be achieved with thorough and quality training opportunities. Performing under pressure, maintaining a calm attitude, and delivering life-saving skills is not an easy task. The only way to achieve perfection in handling such situations is to expose oneself to similar circumstances and practice relentlessly. VR simulations can prove to be very useful in such cases where repeated practice sessions can be undertaken over and over again in zero-risk environments. 
Physicians: VR simulated environments with virtual humans as patients prove to be valuable training and practicing grounds for physicians. Interacting with patients, understanding their complaints, having to answer questions, diagnosing disease based on provided symptoms, and tackling different types of patients skillfully and patiently are some of the skills a physician is expected to possess. Practicing with virtual patients in realistic environments exposes the learners to life-like situations and helps prepare them to face real-life challenges. 
Nursing: The nursing staff forms the backbone of every healthcare setup and makes it all the more important to maintain a well-trained force of nurses. This calls for a highly efficient and adequate number of training facilities that can help meet the growing demands for nurses. At the same time, it is difficult to maintain large training facilities with recurring costs of maintenance. With VR medical simulation training for nurses, it is possible to meet the training requirement without having an elaborate setup and within a manageable budget. Multiple practice sessions can be carried out simultaneously making it possible to train a larger group in one particular skill at any one given time. 
Allied healthcare: A cardiographer, phlebotomist, sonography technician, physical therapy aide, radiographer, sterile processing technician, and similar technical and non-technical staff fall under the definition of allied healthcare workers. These may be small tasks but critically important for the successful diagnosis and treatment of diseases. Each task requires accurate training and sufficient practice sessions to help these healthcare professionals execute tasks with efficiency. Providing VR simulation training sessions meets the need for multiple run-throughs of procedures, providing ample practice sessions before venturing out into a real-world scenario.  
Equipment handling: Medical and healthcare is not just about caring for patients. The system also requires the usage and handling of a variety of medical equipment. Small and large equipment needs to be taken care of and maintained for efficient performance. Training on live equipment may not always be a wise idea, be it for new employees or those training to upskill. With VR simulation training, prospective staff can be trained in handling equipment proficiently. Practice sessions prior to starting work in an actual healthcare facility create familiarity and a level of comfort when performing real-life duties.  
Soft skills training: Every person is unique in themselves. The same applies to patients, their caregivers, and healthcare colleagues. One rule will not apply to all and all rules will not apply at all times. The presence of mind, a calm and composed disposition, and a listening ear can be used to comprehend, process, and eventually react. Building this kind of personality takes time and does not happen in one or two cases. Soft skills training is necessary for every single person working in the healthcare facility and interacting with inmates, visitors, and co-workers. Practicing in some common and some rare situations with virtual humans exposes trainees to multiple scenarios, giving them a wide range of experiences and opportunities to learn how to act and react. 
Continued development: Learning is an endless process and there is always scope to learn something new. Knowledge once acquired needs to be revisited, refreshed, and reviewed. Scope for improvement can be explored and new skills developed. Technological advancements open opportunities to improve upon old methods and explore advanced methods of treatment. Each new development calls for some kind of training and healthcare professionals can keep themselves abreast by undertaking continued knowledge and skill development training sessions. VR medical simulation training will be the most viable option to fit into their busy schedules as these sessions can be undertaken at times best suited to them. 
Simulations can be said to be the cornerstone of clinical training. This, however, is resource intensive, and due to issues like budget and standardization, it is suffering a setback. VR medical simulation training can be a solution to overcome these issues and yet make quality healthcare training available to all learners. With elaborate set-up requirements ruled out, VR training proves to be highly cost-effective for institutions. All VR simulation training is easy to access, repeatable, absolutely risk-free, not bound by time or location, and has no recurring costs attached.