About The Course:
In this scenario, the learner walks into a room in the emergency department to find a 54-year-old male who is unresponsive. The learner must perform the initial assessment and call for help. Once the team arrives, the user will guide the team members to prepare the patient for CPR and appropriate medication. Collaboration and time management is the key to successful execution of this procedure.
In this VR simulation, both single-player and multiplayer modes are available. The multiplayer mode facilitates users to collaborate as a team, perform procedures with fellow participants, communicate over voice chat in real-time and share knowledge and experiences.  
The open scenario assessment helps learners perform independently without guidance and test their knowledge and skill. A debriefing is provided to help learners assess their performance. 
Learning Objectives:
Read and identify rhythm displayed on the monitor

 

Administer correct interventions based on the patient condition

 

Communicate effectively with team members

 

Perform efficiently as a team

 

Identify and make effective use of emergency equipment

 
Reference:
Panchal, A. R., Bartos, J. A., Cabañas, J. G., Donnino, M. W., Drennan, I. R., Hirsch, K. G., Kudenchuk, P. J., Kurz, M. C., Lavonas, E. J., Morley, P. T., O'Neil, B. J., Peberdy, M. A., Rittenberger, J. C., Rodriguez, A. J., Sawyer, K. N., Berg, K. M., & Adult Basic and Advanced Life Support Writing Group (2020). Part 3: Adult Basic and Advanced Life Support: 2020 American Heart Association Guidelines for Cardiopulmonary Resuscitation and Emergency Cardiovascular Care. Circulation, 142(16_suppl_2), S366–S468. https://doi.org/10.1161/ CIR.0000000000000916
Customize Your Program
Get rid of the editor. Adopt in-VR customization.
MedVR Education is bringing to you in-VR customization that will enable you to put together your own simulations by making selections from a wide range of feature choices.
Select patient from a diverse background

Choose preferred virtual environment

Configure patient vitals

Define simulation duration

Create patient history and train with

AI-Humans

Customize session-end debriefing

…..many more to come
Natural Language Processing
Multi-player
Sessions
Physics-Based Interaction
Core Skills Training
Cardiac Arrest
Ventricular Fibrillation, Pulseless Ventricular Tachycardia, Pulseless Electrical Activity, and Asystole are lethal heart rhythms and call for prompt intervention. A timely intervention can succeed in saving lives if it is backed by an excellent team effort among healthcare givers, clearly defined roles for each team member, effective communication and an awareness of emergency equipment and their usage. This VR simulation provides all necessary affordances to complete the task. It is designed to help participants work as a team to assess and treat a virtual patient.
Training
With prompts, guidance and affordances learners are hand-held through the process to practice the procedure in a virtual environment with a virtual patient.  
Photorealistic virtual environment

Physics-based interactions

Detailed instructions

Multiplayer with real-time voice chat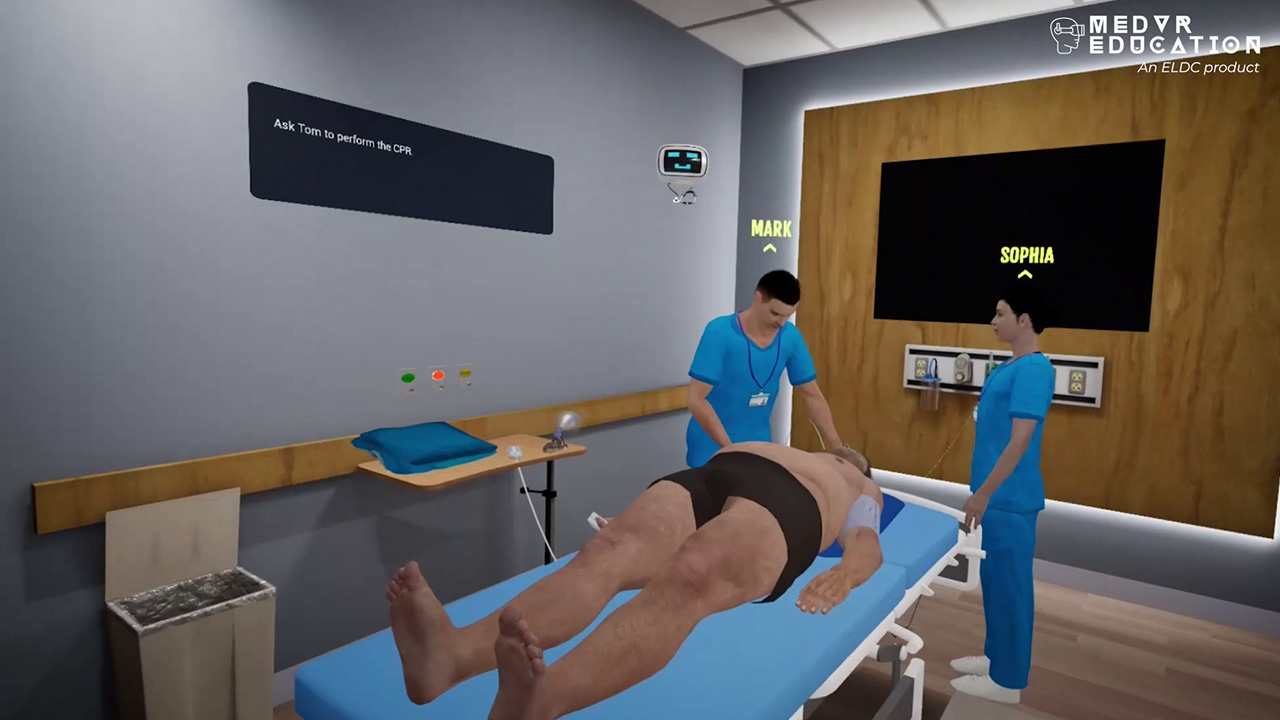 Assessment
Test acquired skills to perform the procedures from start to finish without prompts. An incorrect step will take the learner back to the start to start afresh.  
Live scoring

Post-assessment debriefing

Adequate affordances for efficient performance

Time tracking to monitor activity completion