Central Sterile Processing
About The Course:
Sterilization of medical and surgical instruments is a significant process that helps prevent the spread of pathogens. Personnel working in the Central Service Department must be well-versed with every procedure and each step involved in it. 
Learning Objective:
Performing sterilization procedures of decontamination, disinfection, sterilization, and packaging

Practicing the Flat Simultaneous Envelope packaging method

 

Appropriate use of PPE kits depending upon the location and nature of work

 

Sorting items for different stages of sterile processing

 
Core Skills Training
Decontamination
The process of decontamination involves neutralizing or removing of dangerous substances, radioactive elements, germs, and other contaminants from objects and equipment. Proper execution of this step is critical for controlling further spread of contaminants. This training program is equipped with instruments and tools required for the procedure. The step-by-step affordances ensure that the learner effectively completes each task in the process from preparing to clean objects to rinsing, and becomes equipped to replicate the process in a real-world scenario.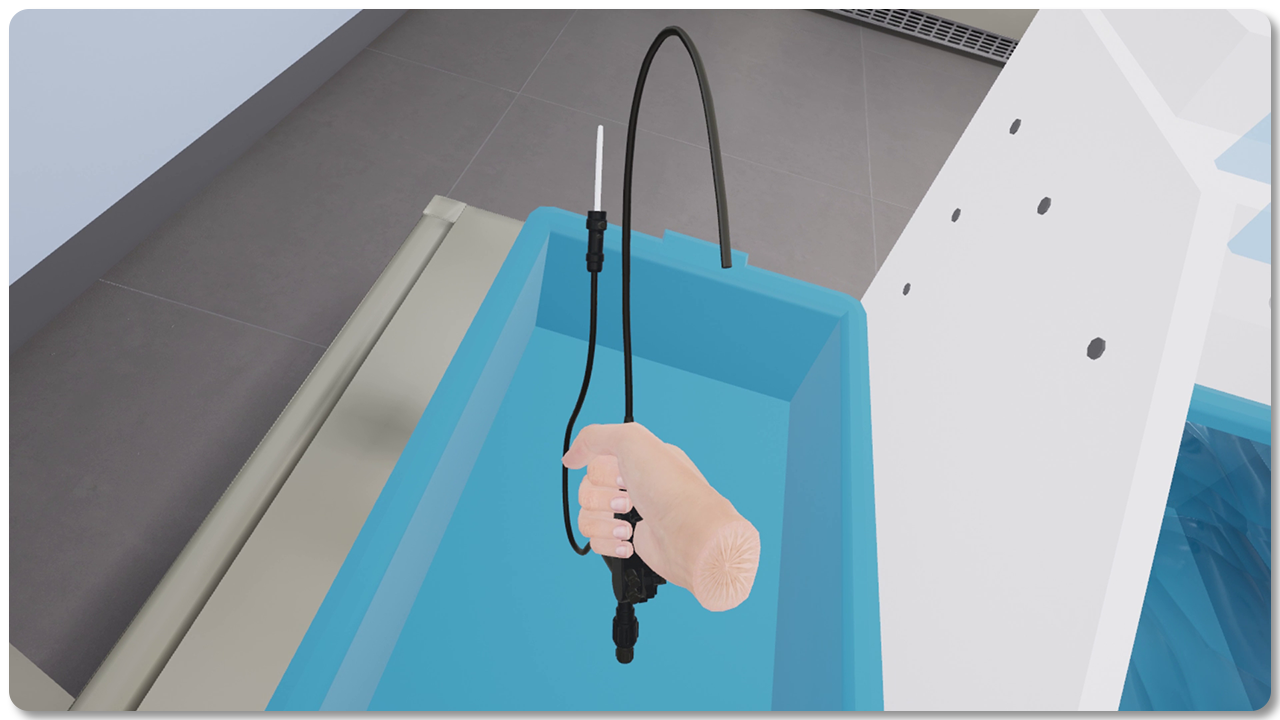 Disinfection
Disinfection involves the process of removing almost all pathogenic microorganisms from inanimate objects. This involves the use of chemical agents that help clean the surfaces of instruments. In this VR training, learners will be able to interact in a virtual environment of a Central Service Department unit and perform the necessary steps in the procedure. Tasks are designed to ensure every step is performed in a manner to help learners not only learn the process but also understand it.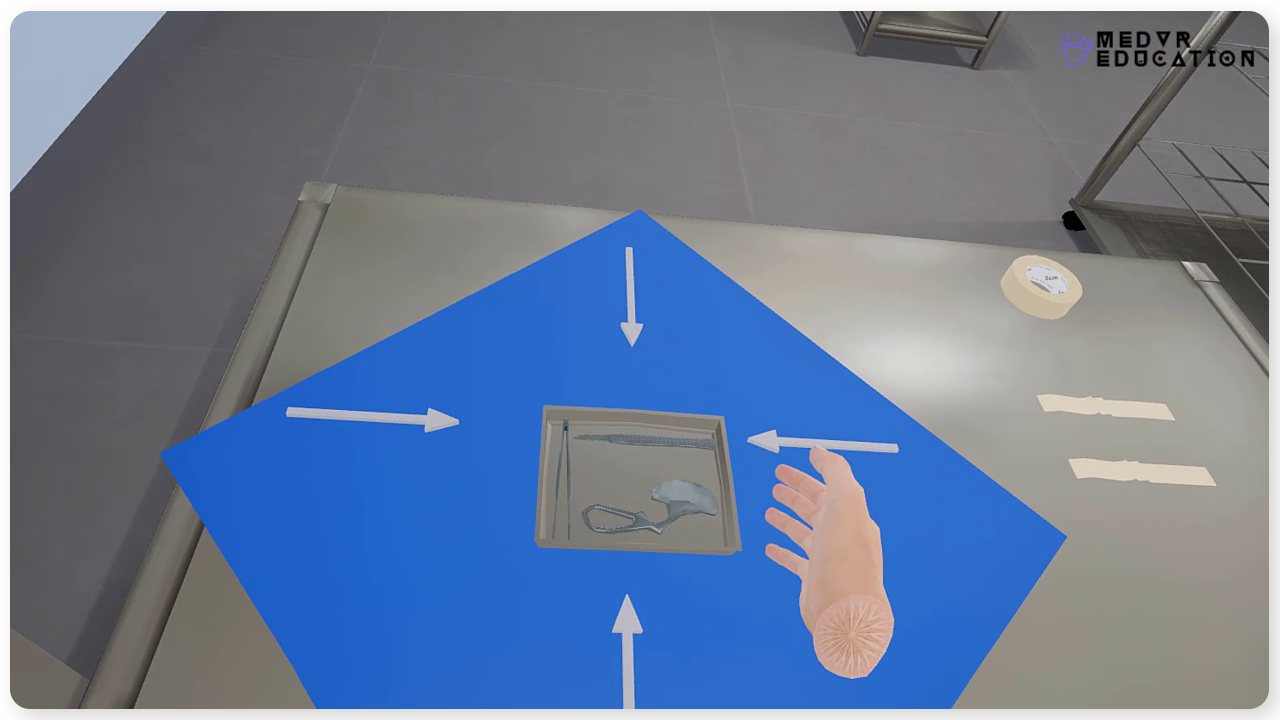 Packaging
Packaging of instruments is another important step in the process of instrument sterilization. With multiple instruments and equipment to be sterilized and packaged, the process requires smooth functioning, ensuring every package is accurately packed. In this training program, learners get to practice their Flat Simultaneous Envelope Packaging skills. Learners will be provided with appropriate affordances that replicate real-life working conditions. The task design includes step-by-step progression, making sure that no step is missed and learners get a complete practice session.
Sterilization
When packaged instruments and objects are ready for sterilization they need to be properly loaded into the sterilizer. Not all packages are of the same size and type. Depending upon the type, packages are placed in the sterilizer. This again, requires some amount of practice to remember what goes where. Large number of packages to be loaded with the added pressures of work calls for spontaneous and quick actions. Through this training program, learners can practice the procedure and get thoroughly acquainted with the process.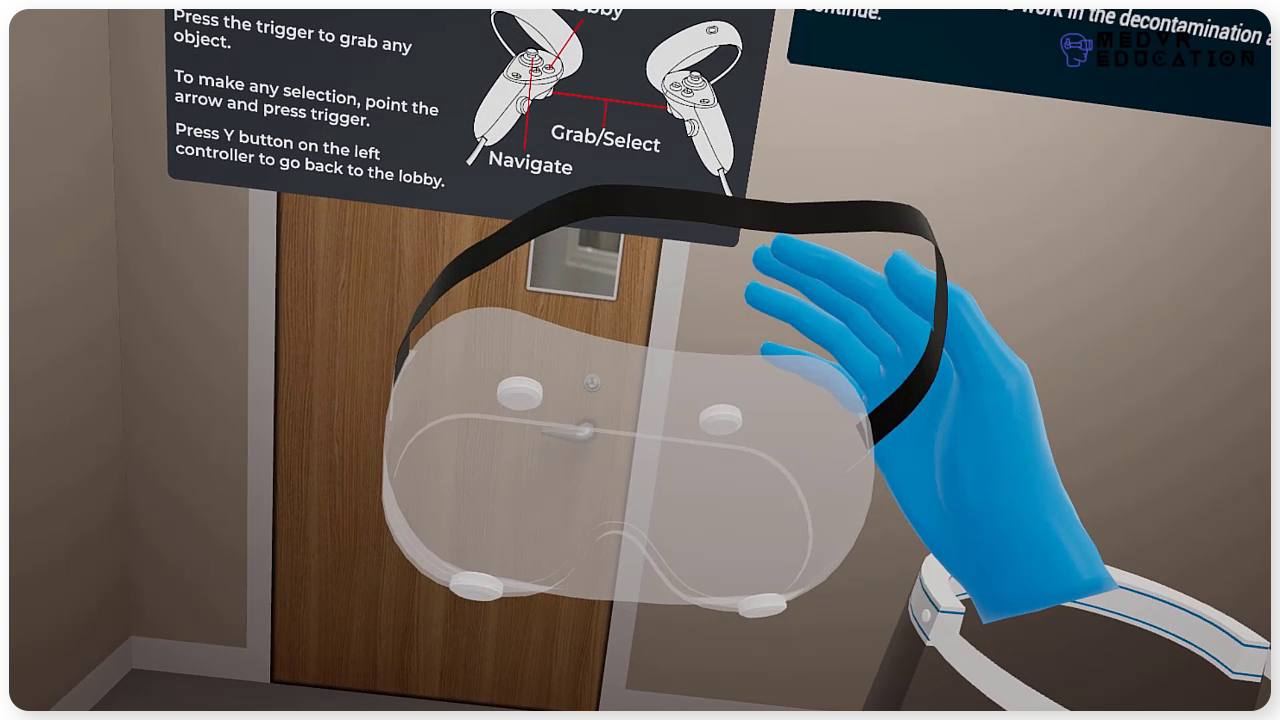 Use of PPE
As a sterile processing technician, there are different types of tasks to be performed in a central sterile processing unit. All tasks require the technician to wear some kind of PPE equipment. There are slight variations for varying tasks. The best way to get acquainted with the correct PPE for a particular task is to practice. In this VR simulation program, learners will practice selecting and wearing PPE equipment for tasks performed in a decontamination area, clean assembly area, and an unrestricted area. Adequate affordances are provided for efficient and effective practice sessions.
Infection Prevention
When working in a sterile processing unit, a technician must develop a sterile conscience or surgical conscience. Every item used for patient care must be thoroughly cleaned and sterilized. Any sterilized item that comes in contact with a contaminated item must once again go through the entire sterilization process. Sorting of items is a critical step in this process, calling for extreme care and efficiency. In this Infection Prevention program, learners will practice the task of sorting items for different stages of sterile processing. With adequate affordances, learners will learn to identify and correctly differentiate between items requiring decontamination, disinfection, sterilization and so on.
Training
With prompts, guidance and affordances learners are hand-held through the process to practice the procedure in a virtual environment with a virtual patient.
Photorealistic Virtual Environment
Physics-based Interactions
Learn by Doing
Visual Affordances
Assessment
Test acquired skills to perform the procedures from start to finish without prompts. An incorrect step will take the learner back to the start to start afresh.
Live Scoring
Instant Feedback
Unlimited Practice Sessions
LMS Integration