About The Course:
CLABSI or Central line associated bloodstream infection is a serious infection causing thousands of deaths every year. It is caused by germs (bacteria and viruses) entering the bloodstream through a central line.
CLABSI, however, is completely preventable if strict protocol is adhered to. CDC lists down detailed preventive measures that healthcare professionals can follow at every step of an insertion procedure to maintain a CLABSI-free insertion. This multiuser VR simulation training consists of both training and assessment sessions. Activities included are related to performing hand hygiene, using sterile barriers, and practicing cap and dressing changes.
Learning Objectives:
Performing sterile cap change

Communicating with the patient and family
Maintaining sterile field
Removing old dressing and skin-prep

Performing sterile dressing change

Using Povidone-Iodine for dressing
Reference:
Developed in partnership with Texas Children's Hospital.
Customize Your Program
Get rid of the editor. Adopt in-VR customization.
MedVR Education is bringing to you in-VR customization that will enable you to customize your procedural simulations by making selections from a range of feature choices.
Select patient from a diverse background
Choose preferred virtual environment
Select equipment used in the procedure
Modify difficulty level of the assessment mode
…..many more to come
Natural Language Processing
Physics-Based Interaction
Core Skills Training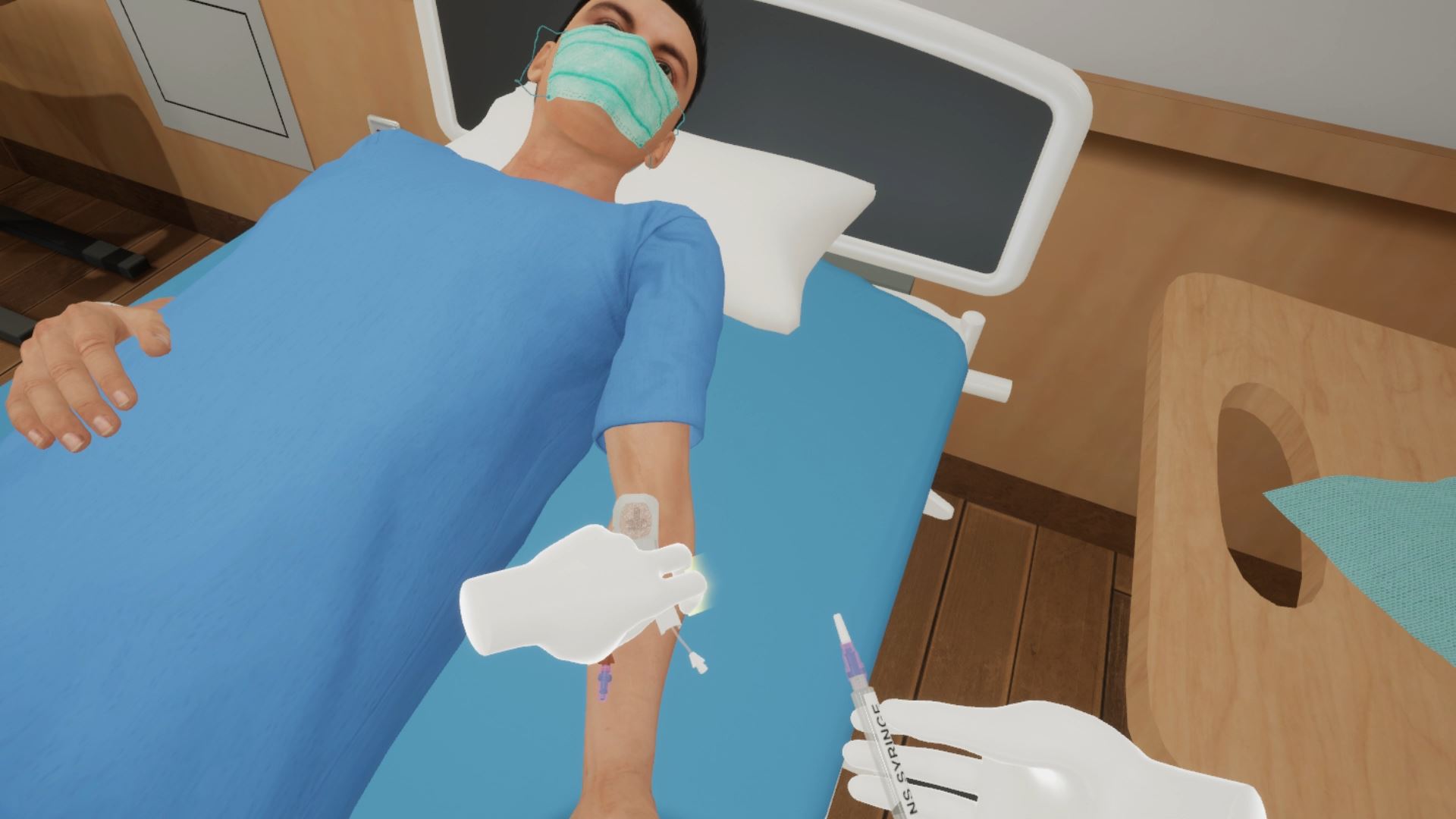 Cap Changing
Keeping the insertion site clean is very important to avoid cases of CLABSI. This includes procedures like performing hand hygiene and maintaining of sterile fields during care procedures. When performing a cap change, adequate steps like use of gloves and proper utilization of the change kit must be undertaken. As part of this Cap Changing module, learners are provided with all affordances to perform the procedure efficiently. Regular guidance is provided in the training session to complete tasks in a routine manner while following proper hygiene protocol. The assessment session helps test one's knowledge and skills.
Dressing Changing
Central line insertions call for regular dressing changes which must be performed in absolutely zero-infection environments. This module on Dressing Changing provides learners practice in inspecting old dressing, unpacking the dressing change kit, maintain a sterile field, and changing the dressing following standard procedure. Step-by-step instructions in the training mode provide practice and encouragement in performing all the steps in the appropriate method. The assessment session helps learners test their skills and knowledge in the procedure.
Training
With prompts, guidance and affordances learners are hand-held through the process to practice the procedure in a virtual environment with a virtual patient.  
Photorealistic virtual environment

Physics-based interactions

Detailed instructions

Adequate affordances to assist in task completion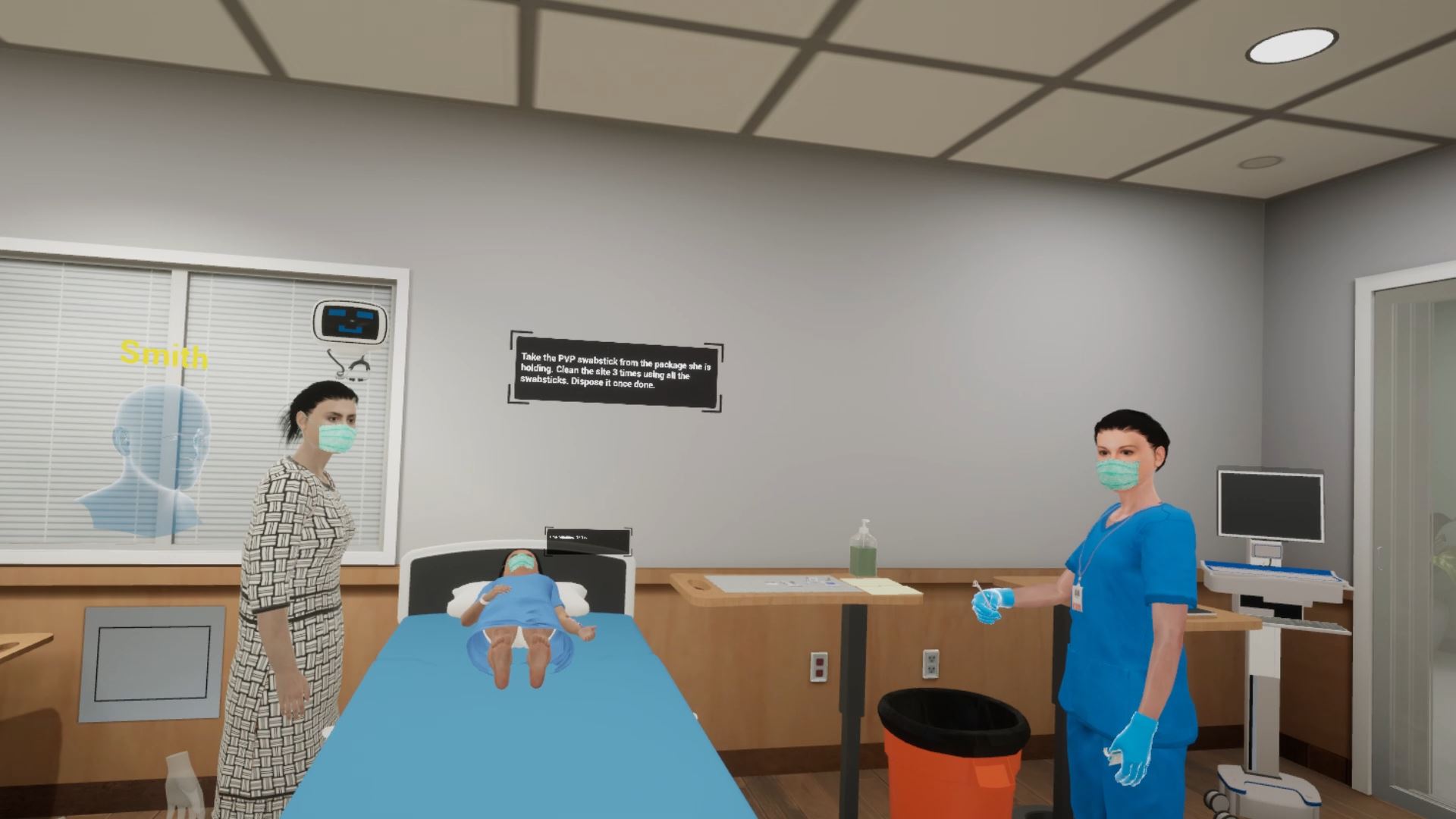 Assessment
Test acquired skills to perform the procedures from start to finish without prompts. An incorrect step will take the learner back to the start to start afresh.  
Live scoring

Instant feedback

Adequate affordances for efficient performance

Time tracking to monitor activity completion