About The Course:
After a colostomy surgery the care procedure is entrusted to nurses. Taking proper care of a colostomy patient includes tasks like emptying and changing the colostomy bag, cleaning the stoma, and applying adhesive wafer. All this has to be performed keeping in mind the comfort and safety of the patient.
In this multiplayer VR simulation, learners can join virtually to collaborate with each other via voice chat. They can learn the procedure in virtual photorealistic environments and gain first-hand experience of each step of the process.
Learning Objectives:
Explain colostomy removal and application procedures to a virtual patient

 

Demonstrate removing colostomy appliance

 

Demonstrate assessing colostomy site

 

Demonstrate measuring colostomy site

 

Demonstrate applying colostomy appliance

 

Educate patient on colostomy removal and application procedures
Reference:
Wound, Ostomy, and Continence Nurses Society. (2010). Management of the patient with a fecal ostomy: Best practice guideline for clinicians. Journal of Wound, Ostomy and Continence Nursing, 37(6), 596–598. (Level VII)
Developed under the guidance of the MedVR Education advisory team.
Customize Your Program
Get rid of the editor. Adopt in-VR customization.
MedVR Education is bringing to you in-VR customization that will enable you to customize your procedural simulations by making selections from a range of feature choices.
Select patient from a diverse background
Choose preferred virtual environment
Select equipment used in the procedure
Modify difficulty level of the assessment mode
…..many more to come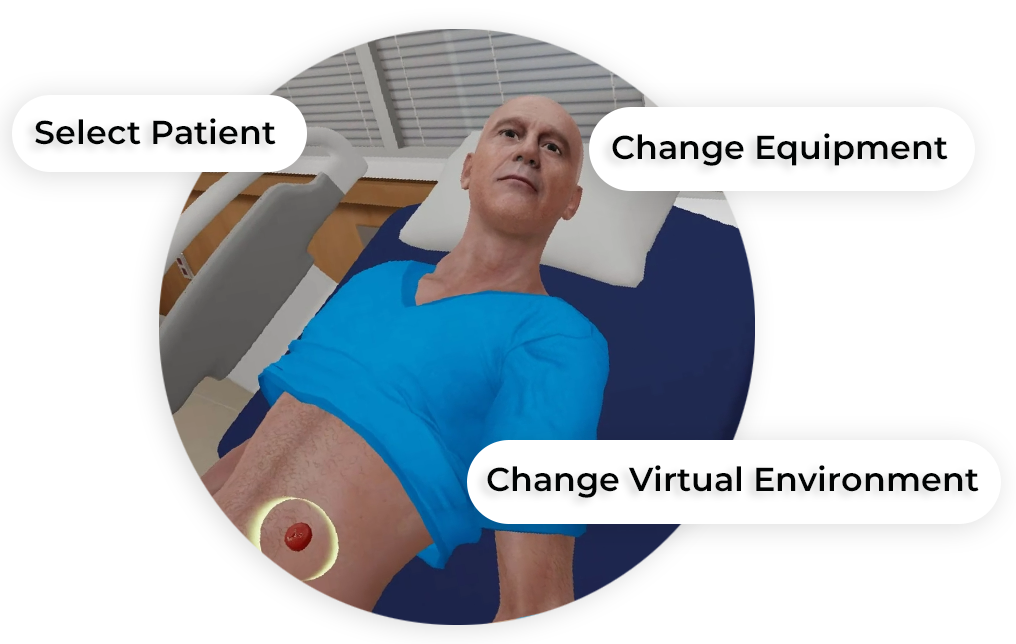 Multi-player
Sessions
Physics-Based Interaction
Core Skills Training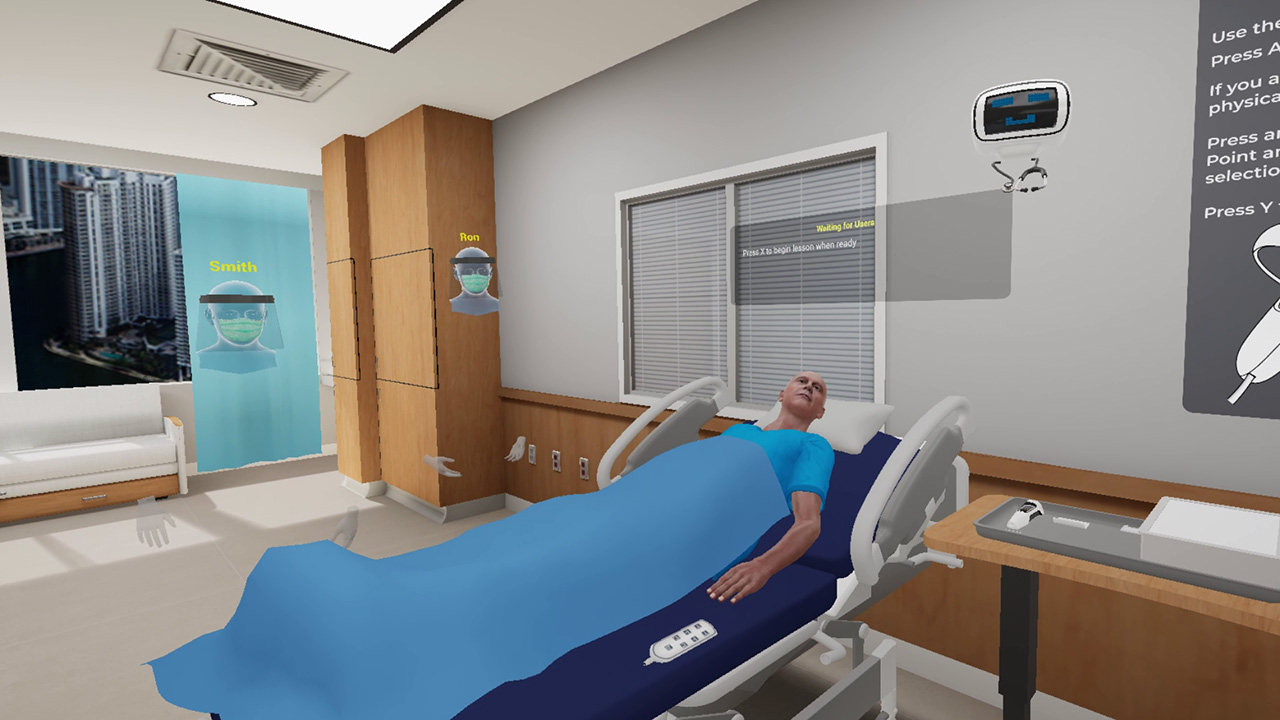 Procedure Preparation
Thorough preparation ensures a smooth procedure. The same goes for this module on Procedure Preparation for changing a colostomy bag. As part of this module, the user will learn the methods of informing the patient and gathering material to go ahead with the change of the colostomy pouch. Fluid conversations with the virtual patient, multiplayer features with voice-chat and physics-based interactions add realism to the module.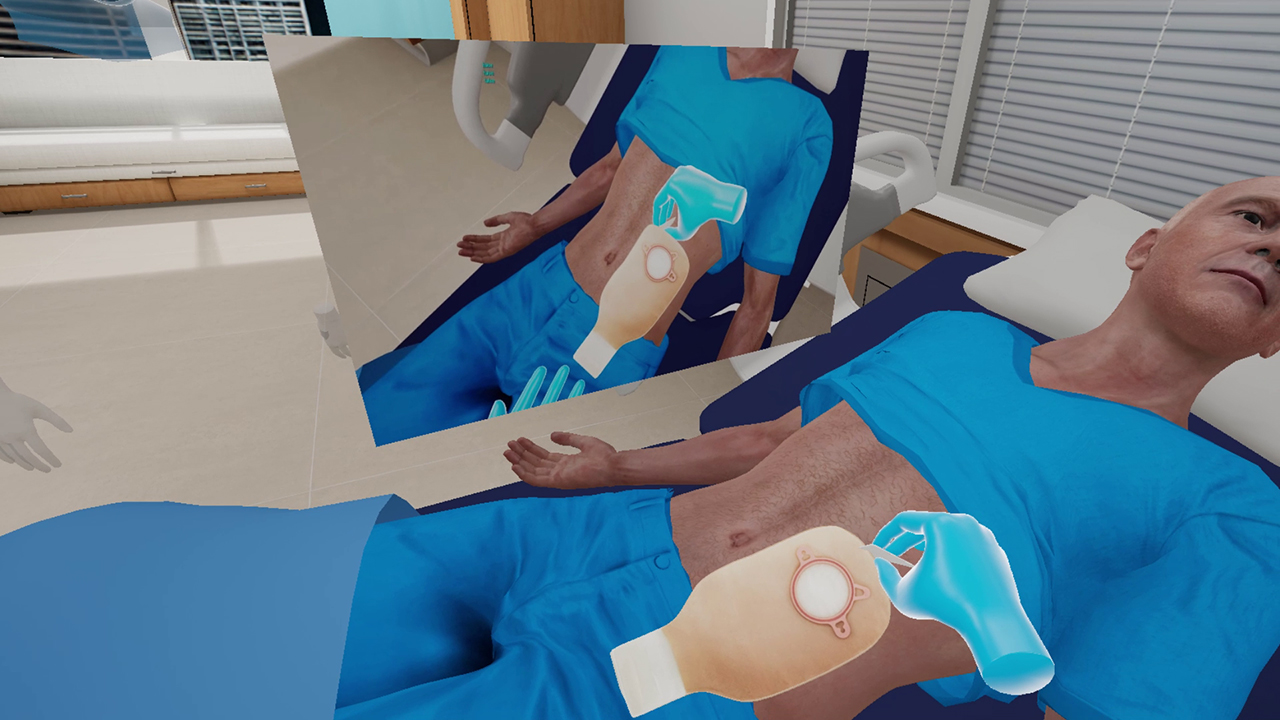 Changing Colostomy Bag
With the required material gathered and patient informed it is time to perform the colostomy bag change. As part of this module, learners can join in multiplayer mode, learn the process of emptying the old bag, removing it, preparing the skin, and applying a new colostomy bag. Learners can follow each step of the procedure, share knowledge and gain experiences to help prepare for real-life tasks.
Training
With prompts, guidance and affordances learners are hand-held through the process to practice the procedure in a virtual environment with a virtual patient.  
Photorealistic virtual environment

Physics-based interactions

Multiplayer across locations

Voice-chat in real time
Assessment
Test acquired skills to perform the procedures from start to finish without prompts. An incorrect step will take the learner back to the start to start afresh.  
Live scoring

Instant feedback

Adequate affordances for efficient performance

Time tracking to monitor activity completion