About The Course:
Jacob is a 52-year-old male patient. He is admitted for an infection and has antibiotics ordered. IV access has been tried numerous times without successful placement. The attending physician has written an order for central venous catheter placement. The central line has to be placed in the internal jugular vein using the ultrasound guided method.  
Learners will be practicing this central venous catheter insertion in a virtual environment to perform steps starting from preparing a sterile field to completing the insertion procedure. 
This multiplayer VR session is designed to provide learners with the training and practice required to carry out the procedure with efficiency and confidence.
Learning Objectives:
Explain the internal jugular catheter insertion procedure to a virtual patient

 

Demonstrate donning sterile gown and gloves

 

Demonstrate setting up sterile field

 

Demonstrate successful internal jugular catheter insertion procedure

 

Demonstrate

 suturing the wound

 

Demonstrate 

applying the dressing

 

Explain aftercare instructions to a virtual patient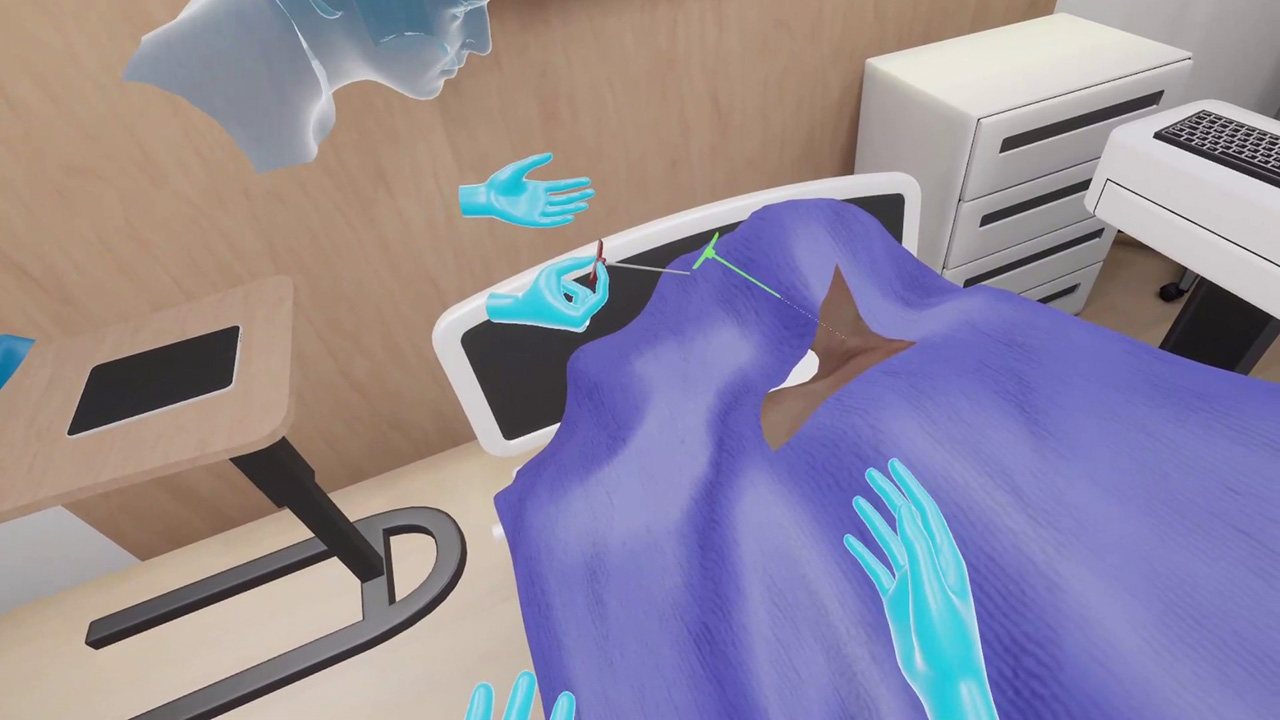 Reference:
Developed under the guidance of MedVR Education advisory team.
Standard 26. Vascular access device (VAD) planning. Infusion therapy standards of practice. (2016). Journal of Infusion Nursing, 39, S51–S54. (Level
VII)
Infusion Nurses Society. (2017). Policies and procedures for infusion therapy of the older adult (3rd ed.). Boston, MA: Infusion Nurses Society.
Customize Your Program
Get rid of the editor. Adopt in-VR customization.
MedVR Education is bringing to you in-VR customization that will enable you to customize your procedural simulations by making selections from a range of feature choices.
Select patient from a diverse background
Choose preferred virtual environment
Select equipment used in the procedure
Modify difficulty level of the assessment mode
…..many more to come
Multi-player
Sessions
Physics-based Interaction
Core Skills Training
Patient Preparation
In this first module, learners are required to practice preparing for a central line insertion procedure. This involves preparing the sterile field, ensuring all required supplies are in place, and preparing the patient for the procedure. Necessary affordances are made available to the learners for a hiccup-free ride through the module. Ensuring thorough preparation will help perform the procedure with efficiency.
Insertion Procedure
In this module, learners practice the insertion procedure which involves tasks like inserting the introducer needle, the guide wire, threading the catheter over the guide wire, and applying dressing after the insertion. The task will end with the learner ordering an x-ray to confirm catheter placement. With all necessary affordances made available, learners get to practice in realistic scenarios for true-to-life experiences.
Training
With prompts, guidance, and affordances learners are hand-held through the process to practice the procedure in a virtual environment with a virtual patient.
Photorealistic Virtual Environment
Physics-based Interactions
Learn by Doing
Visual Affordances
Assessment
Test skills to perform the procedures from start to finish without prompts. An incorrect step will take the learner back to the start to start afresh.
Live Scoring
Instant Feedback
Unlimited Practice Sessions
LMS Integration