About The Course:
Lisa is 38 years old and she is visiting for a for a tuberculosis skin test. The process involves performing an intradermal injection procedure to inject tuberculin in the lower part of the arm. Additionally, it is required of the healthcare professional to inform and educate the patient about the injection and post-procedure care.
This VR simulation for administering an intradermal injection is designed to help healthcare practitioners practice the procedure in a safe and controlled virtual set up with a virtual patient. With both training and assessment modes, learners can perform the procedure and assess themselves on their performance.
Learning Objectives:
Identify the tuberculin antigen lot number
Validate the tuberculin antigen vial is before the expiration date
Demonstrate proper technique of choosing the appropriate intradermal injection site
Follow clinically approved procedure of cleaning the intradermal injection site
Demonstrate standard technique of administering an intradermal injection
Demonstrate correct method of applying adhesive strips
Educate the patient on side effects and proper aftercare instructions
Reference:
Tarnow, K., & King, N. (2004). Intradermal injections: Traditional bevel up versus bevel down. Applied Nursing Research, 17(4), 275–282. (Level VI)
Westbrook, J., et al. (2010). Association of interruptions with an increased risk and severity of medication administration errors. Archives of Internal Medicine, 170(8), 683–690. (Level IV)
The Joint Commission. (2019). Standard RC.01.03.01. Comprehensive accreditation manual for hospitals. Oakbrook Terrace, IL: The Joint Commission. (Level VII)
Customize Your Program
Get rid of the editor. Adopt in-VR customization.
MedVR Education is bringing to you in-VR customization that will enable you to customize your procedural simulations by making selections from a range of feature choices.
Select patient from a diverse background
Choose preferred virtual environment
Select equipment used in the procedure
Modify difficulty level of the assessment mode
…..many more to come
Multi-player
Sessions
Physics-based Interaction
Core Skills Training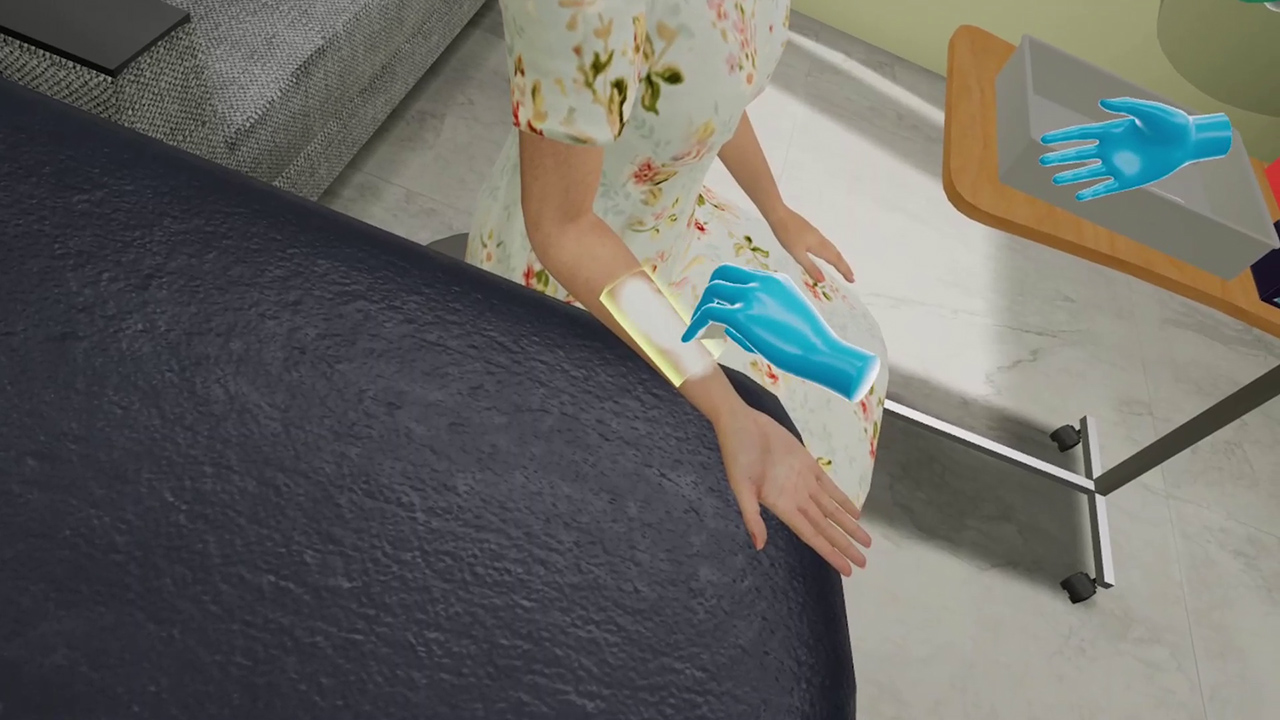 Administering Intradermal Injection
As a part of this Intradermal Injection procedure, the user is required to confirm the identity of the patient and enquire about any possible allergies. The user will also inform the patient about the procedure and what to expect from the injection. Having informed the patient, the user will prepare the injection and administer it to the patient. Further, the user is required to educate the patient on the post-procedure care and the need to return within a stipulated time to have the tuberculosis skin test read. The procedure is designed to help learners practice interacting with the patient and performing the procedure smoothly.
Training
With prompts, guidance and affordances learners are hand-held through the process to practice the procedure in a virtual environment with a virtual patient.
Photorealistic virtual environment
Physics-based interactions
Detailed instructions
Adequate affordances to assist in task completion
Assessment
Test acquired skills to perform the procedures from start to finish without prompts. An incorrect step will take the learner back to the start to start afresh.
Live scoring
Instant feedback
Adequate affordances for efficient performance
Time tracking to monitor activity completion