About The Course:
Four-year-old Olivia is brought to the Emergency Department as she is lethargic and "not herself". She has had a fever and cough for the past three days. On arrival she looks toxic and has delayed capillary refill, a glazed stare, tachypnea, and tachycardia.  
This multiplayer, open-scenario VR simulation is designed to help healthcare practitioners practice and manage common issues associated with pediatric resuscitation. The post-session debriefing serves as a self-analysis, helping learners identify areas for improvement and avoid errors in the real world.
Learning Objective:
Recognize the need for early IO (intraosseous) access in a critically unwell child where IV access is unsuccessful 

 

Check capillary blood glucose 

 

Prioritize IV fluid boluses then vasopressors in the setting of septic shock

Administer IV antibiotics 

 

Recognize the need to intubate a septic child with altered level of consciousness

 
Reference:
Marx, J. A., Hockberger, R. S., Walls, R. M., & Adams, J. (2013). Rosen's emergency medicine: Concepts and clinical practice. St. Louis: Mosby.
Intraosseous access – https://www.rch.org.au/clinicalguide/ guideline_index/Intraosseous_access/
Part 12: Pediatric Advanced Life Support. https://www.ahajournals.org/action/ showCitFormats?doi=10.1161%2FCIR.000000000000 0266
Customize Your Program
Get rid of the editor. Adopt in-VR customization.
MedVR Education is bringing to you in-VR customization that will enable you to put together your own simulations by making selections from a wide range of feature choices.
Select patient from a diverse background

Choose preferred virtual environment

Configure patient vitals

Define simulation duration

Create patient history and train with

AI-Humans

Customize session-end debriefing

…..many more to come
AI Patient Assessment
Natural Language Processing
Multi-player
Sessions
Physics-based Interaction
Core Skills Training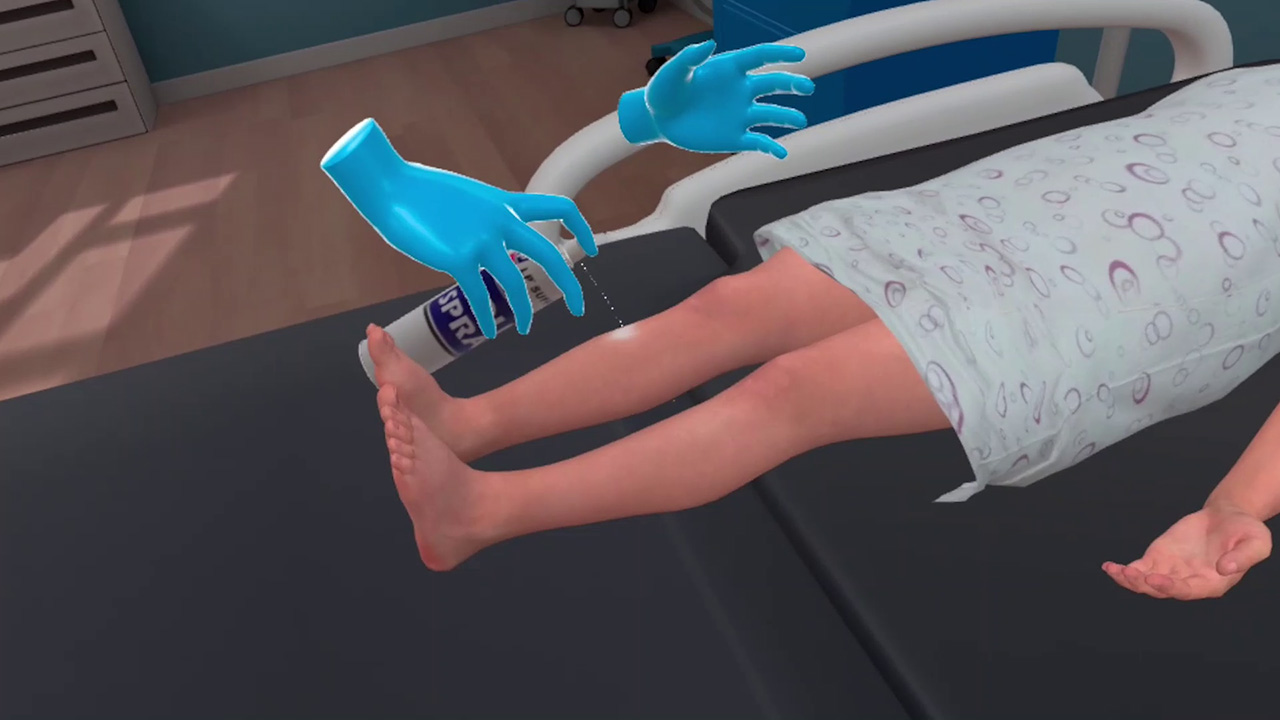 Pediatric Septic Shock
In this open scenario simulation, the learner is expected to identify and respond to a critical case of pediatric septic shock. The four-year-old patient is toxic on arrival with delayed capillary refill, a glazed stare, tachypnea, and tachycardia. Being unable to obtain IV access, the team will need to insert an IO. Having gained IO access, they will be required to resuscitate the child by prioritizing fluids, antibiotics, and vasopressors. If a capillary glucose is not checked and the hypoglycemia is not corrected, the patient will seize. The patient will remain listless after fluid resuscitation and the team will have to decide whether to intubate the patient.
Debriefing
End-of-task debriefing to assess one's performance, evaluate actions, and get the most out of the session. The debriefing includes crucial points related to the scenario.
Thorough patient assessment
Completion of necessary steps
Correct medication administration to patient
Sequential completion of task
Execution of time-sensitive tasks