About The Course:
The primary purpose of phlebotomy is to diagnose or monitor treatment of a patient's disease condition. In this VR training program, learners are provided with equipment like needles, tubes, lancets, blood collection devices, sample labeling material and gauze to bandage the puncture site to provide a realistic phlebotomy experience.
Learning Objective:
Routine venipuncture with a syringe
Venipuncture using an Evacuated Tube System (ETS)
Venipuncture with a winged infusion set
Capillary collection of blood sample
Reference:
Developed in alignment with Phlebotomy: Worktext and Procedures Manual (Fourth Edition) by Robin Warekois and Richard Robinson.
Customize Your Program
Get rid of the editor. Adopt in-VR customization.
MedVR Education is bringing to you in-VR customization that will enable you to customize your procedural simulations by making selections from a range of feature choices.
Select patient from a diverse background
Choose preferred virtual environment
Select equipment used in the procedure
Modify difficulty level of the assessment mode
…..many more to come
Physics-based Interaction
Core Skills Training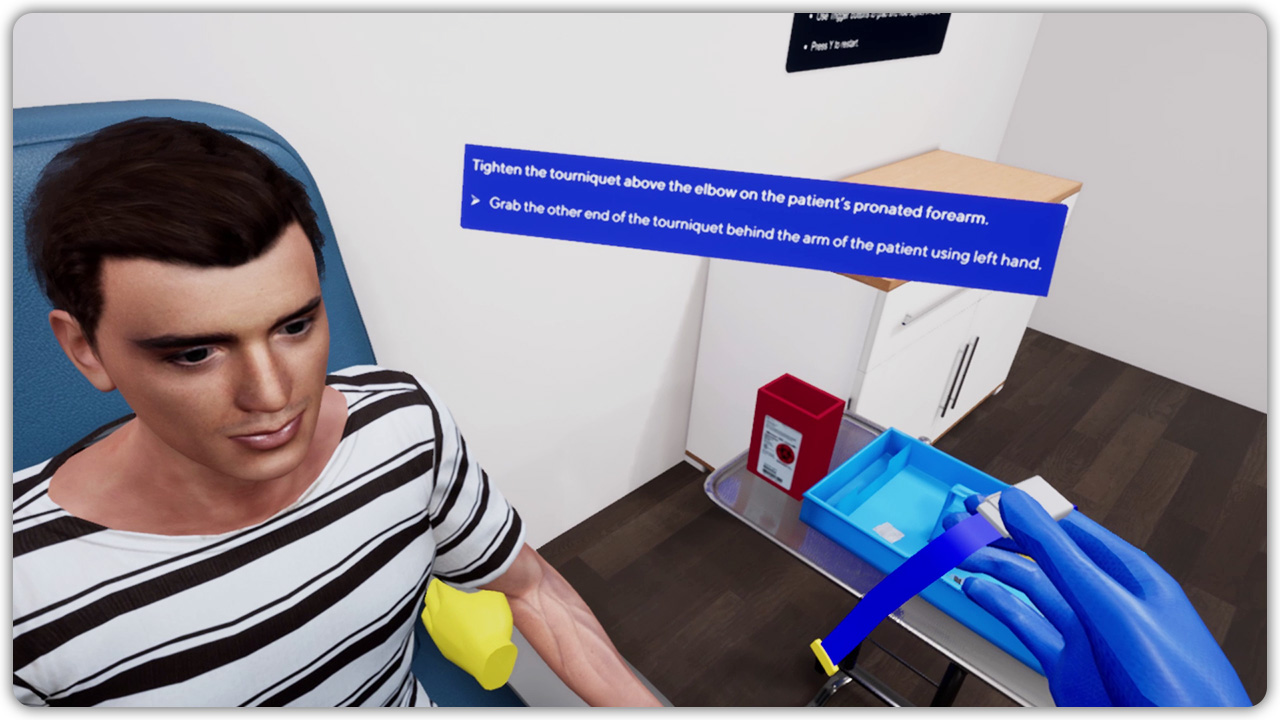 Routine Venipuncture with a Syringe
Venipuncture with a syringe is required for patients with fragile veins as the strong vacuum of the evacuated tube may collapse the vein. This VR training is designed to help learners practice the procedure of drawing blood with the help of a syringe and transfer the blood to an evacuated tube using a needleless blood transfer device. Additional equipment required for the procedure are a tourniquet and bandaging material to be applied at the puncture site. The training has step-by-step affordances so that the learner does not skip any step while practicing the procedure. Simulated physics-based injection mechanisms provide an immersive feel, much like a real-world experience.
Venipuncture Using ETS
The goal of this virtual training is to complete a blood collection procedure in a safe and efficient manner using the Evacuated Tube System (ETS) after a test request is received from the provider. Blood collection with an ETS includes a tourniquet, vacuum tubes, a double-sided safety needle, and a needle holder. In this VR training, the learner will use all required equipment to perform the standard procedure of preparing the patient, cleaning the puncture site, locating the puncture vein, preparing the ETS, and collecting a blood sample from the virtual patient's body.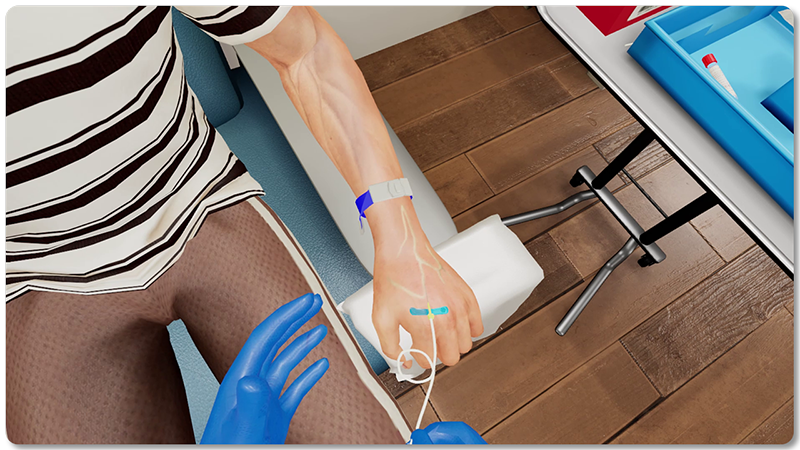 Venipuncture with a Winged Infusion Set
A butterfly needle is a device used to access a vein for drawing blood or administering medication. Some medical professionals refer to a butterfly needle as a "winged infusion set" or a "scalp vein set." The set gets its name from the plastic wing-like structures on either sides of the needle that is used to access the vein. The set consists of a small gauge needle which is ideal for drawing blood from very small and fragile veins, like those on the back of the hand. A butterfly, or winged infusion draw, can be completed using either an Evacuated Tube System (ETS) or syringe and transfer device. Learners, in this VR training program, will practice the procedure to collect a blood sample from a virtual patient using the ETS by first preparing the winged infusion set and then by inserting it in the vein of the virtual patient.
Capillary Collection
Capillary collection (skin puncture or dermal puncture) is an alternate method of drawing blood. This is the preferred method of collecting blood samples from new-borns and infants as well as for ancillary blood glucose testing. A phlebotomist must be familiar and well-versed with the capillary collection method – its uses, advantages, and limitations. Not all conditions qualify for a capillary collection while many circumstances do not permit a venipuncture. A capillary collection procedure involves a puncture equipment with a trigger that must be depressed to create a puncture in the skin to help collect a sample. The sample is collected in micro containers called bullets which come is multiple sizes. In this VR training, learners will clean a puncture site, draw blood using a puncture device, and transfer the sample to a collection container.
Training
With prompts, guidance and affordances learners are hand-held through the process to practice the procedure in a virtual environment with a virtual patient.
Photorealistic Virtual Environment
Physics-based Interactions
Learn by Doing
Visual Affordances
Assessment
Test skills to perform the procedures from start to finish without prompts. An incorrect step will take the learner back to the start to start afresh.
Live Scoring
Instant Feedback
Unlimited Practice Sessions
LMS Integration