About The Course:
Subcutaneous implantable cardioverter defibrillator or S-ICD implant involves the placement of an electronic medical device under the skin to prevent sudden cardiac complications. Doctors recommend it in patients with certain cardiac conditions requiring heart rhythm monitoring. This is a relatively less invasive procedure compared to the transvenous approach. The S-ICD contains only one lead that runs under the patient's skin, carries lesser risks of complications, and is easy to replace or remove.
This multiplayer VR session on S-ICD implantation is designed to help learners perform and practice the procedure on a virtual patient. Practicing in VR provides realistic experiences, helps build muscle memory and gain confidence.
Learning Objective:
Identify appropriate landmarks
Surgically create lateral and medial subcutaneous pockets
Tunnel a subcutaneous lead in the appropriate orientation
Secure the lead and attach it to the S-ICD device
Insert the device in the pocket and close the surgical field
Reference:
Created in partnership with Heart Rhythm Society.
Customize Your Program
Get rid of the editor. Adopt in-VR customization.
MedVR Education is bringing to you in-VR customization that will enable you to customize your procedural simulations by making selections from a range of feature choices.
Select patient from a diverse background
Choose preferred virtual environment
Select equipment used in the procedure
Modify difficulty level of the assessment mode
…..many more to come
Multi-player
Sessions
Physics-based Interaction
Core Skills Training
Patient Preparation
Following proper preparation steps is very important to ensure a safe and successful procedure. In this Patient Preparation module, the incision marks are made to identify the exact location. Using a chlorhexidine sponge stick the patient's surgical field is thoroughly scrubbed to avoid any chances of infection. Having done so the patient is sterile draped, leaving only the surgical field exposed to carry out the procedure. Local anesthetic is administered at the incision sites using syringes. The patient is now ready for the surgical procedure.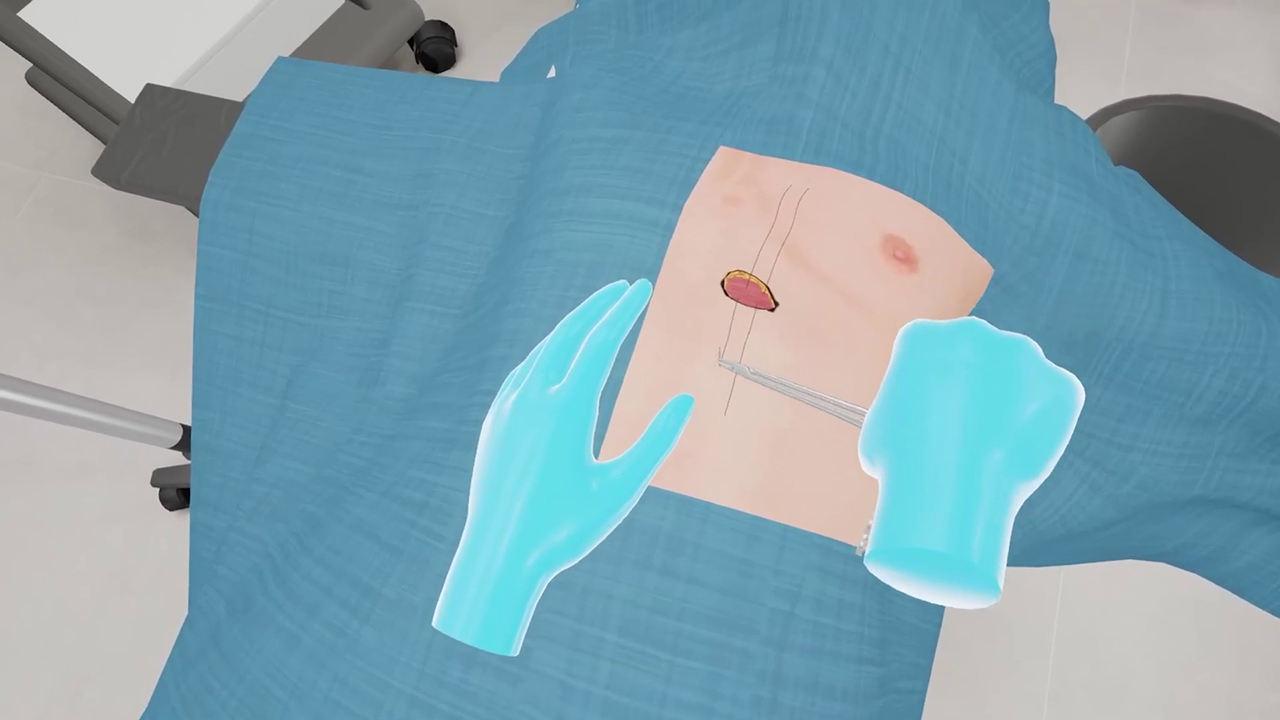 Surgical Procedure
In the Surgical Procedure module, the learner starts with making an incision and removing fat layers between serratus anterior and latissimus dorsi. A pocket is created within the muscle layers to house the ICD device. The learner is required to make an incision on the chest, create anchoring sutures, correctly place the electrodes and the ICD device, and connect the electrodes to the device. Every step is meticulously performed to familiarize the learner with the process, build muscle memory, and gain confidence in performing it.
Training
With prompts, guidance and affordances learners are hand-held through the process to practice the procedure in a virtual environment with a virtual patient.  
Photorealistic virtual environment

Physics-based interactions

Detailed instructions

Adequate affordances to assist in task completion
Assessment
Test acquired skills to perform the procedures from start to finish without prompts. An incorrect step will take the learner back to the start to start afresh.  
Live scoring

Instant feedback

Adequate affordances for efficient performance

Time tracking to monitor activity completion