Objective of the study
The objective is to study the implementation Patient Room Cleaning training in VR among environmental service professionals in a hospital set up. 
User groups
The user groups in this study include professionals of the Children's Medical Center Environmental Services, Dallas. 
What were the training requirements?
A reduction in training time and developing a knowledgeable and productive employee is the priority ROI for every organization, and the same applies to Children's. Training methodologies are formulated with the focus being on learners and required training outcomes. 
The existing training methods included spreadsheet steps, Power Point presentations, and hands-on in-room training. This system has been in place for a certain period of time but that definitely did not mean that new methods could not be explored. At the same time, working methods are undergoing changes and enhancement, and this meant that trainings in new processes needed to be formulated. Technology too is advancing at a rapid and dynamic rate and with it new and improved methods of training are coming to the fore. 
Children's Medical Center Environmental Services realized the need to up its training 'game' with the following objectives in mind: 
– Create a consistent and updated training program
– Allow users access to hands-on experiences
– Develop a system for verification and documentation of staff's efficacy 
Each objective was focused towards improving training methods and increased efficiency among the professionals, both new and experienced. 
What measures were taken to achieve the requirements?
Children's Medical Center Environmental Services decided to start implementation of its new training methodologies with Patient Room Cleaning being the first module to be produced. It turned to the Association for the Healthcare Environment (AHE) guidelines which served as the basis of all training lessons. In collaboration with MedVR Education, an immersive learning company developing VR simulation training, a new system of training was implemented. This was training in virtual reality or, as we can call it, VR training. 
As part of this VR training session for Patient Room Cleaning, learners found themselves in a virtually simulated environment which was a replica of their very own working environment, hence a relatable atmosphere. Being a part of a simulated environment allowed learners to interact with virtual equipment, giving them a much-required hands-on experience of the job. With affordances being enriched with physics-based interactions, all activities presented a realistic effect. 
Lessons were designed to achieve the following outcomes: 
– Provide information of cleaning methods 
– Help learners understand the cleaning sequence followed at Children's Medical Center Environmental Services to ensure a complete and thorough job execution 
– Promote familiarity and help memorize items in a cleaning cart 
– Follow the AIDET process of communicating with the room occupants, both patients and caregivers alike 
– Practice Children's Medical Center Environmental Services' well-defined and organized method of patient room cleaning, always starting from one point and following it through to the last 
Lessons were created to match learners' learning style as well as validate the necessary skills. VR being a fairly new and emerging training method, device training was required and was duly included in the program. Oculus devices of learners could be cast on to trainer's PC screen, making the sessions guided experiences or facilitating a verification process.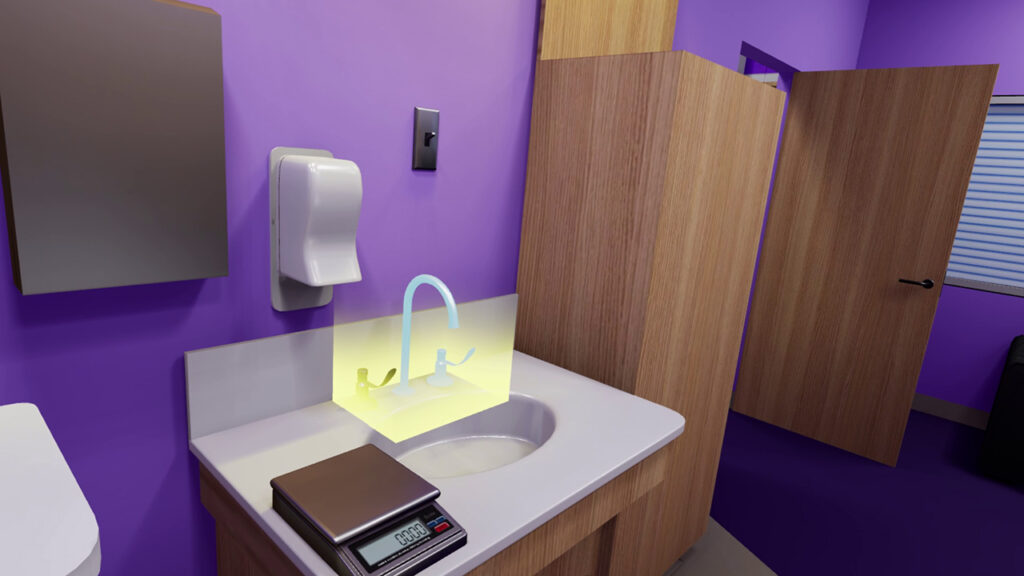 What were the outcomes of the implementation of VR training?
It wouldn't be incorrect to say that the outcomes of implementing VR training methods were very promising. Learners wholeheartedly accepted it, including trainees with limited computer skills. This goes on to establish that, though new, VR training is fairly easy to adapt to and use efficiently. Even for learners who were a little reluctant about using a new technology, this was a smooth ride. The very fact that the training was 'instructive and fun' goes on to prove this fact. 
Training in VR led to a reduced turn-around time for (1) Acute care cleaning procedures for new employees with little or no experience in the field and (2) Experienced new hires training in the hospital's procedures and products. The training time, on the whole, saw an impressive reduction of two weeks. 
This was the first EVS module in Patient Room Cleaning and it received a 100% acceptance from all users, with them looking forward to forthcoming training modules. 
As an experienced EVS new hire put it post the VR training at Children's Medical Center Environmental Services, when she enters a room, she remembers exactly how the app had her clean the room in an organized manner instead of "going over here and then over there" in a haphazardly manner. Training with the app, she says, has cut in half her room turnover. 
Conclusion
"It was amazing!" When a learner gives feedback like this, the effectiveness and engagement of a learning solution speaks for itself. This was exactly how the EVS professionals at Children's reacted to the VR training for Patient Room Cleaning. Learning was not only comfortable but full of fun and enthusiasm. Would they like to do it again? "Definitely!" came a prompt reply.
These might be the initial stages of the implementation of VR training at Children's Medical Center Environmental Services but the results are pointing in the positive direction. These training sessions have shown an increased rate of knowledge retention among learners. With better awareness of the procedure and improved muscle memory, training time has reduced remarkably, compared to previous methods of training. This holds true for both new employees as well as experienced ones brushing up their rusty skills. A once 'boring' training session for both trainees and trainers was transformed into an attention grabbing and highly engaging exercise, not to forget the fun learners had throughout the process.
Contact us to know more about VR in healthcare training, or visit our MedVR Education webpage to explore the various programs we offer.