Every patient is a unique individual and requires custom treatment. How do you prepare to face different kinds of patients and assess them based on their responses? The only way to master this is practice but how does one practice with real-patients? Experience will be one way to achieve this but what if this experience can be achieved before stepping into the real-world? Yes, this is possible and AI-based patient assessment can help do this.  
Virtual reality environment possesses an immersive quality. A user steps into a virtual environment to be detached from the real world and become part of a new set up. Realistic virtual environments serve as excellent training grounds as they are safe and allow a user to take chances. A mistake does not prove catastrophic, no matter how grave it is. If virtual characters in these environments are enabled to hold a realistic human-like conversations it can provide an excellent training environment to help healthcare professionals prepare for real-life challenges. 
Conversational
AI in
MedVR
Ed Open Scenarios
Realizing the huge benefits of conversational AI in virtual reality training solutions, MedVR Education has leveled up its open scenario simulations. Virtual patients in these simulations are AI enabled and prove to be much more than mere graphic creations.  
Virtual patients in these open scenarios are capable of responding to any question on any subject. Questions can range from "How are you feeling today?" to "When did the First World War begin?" Equipped with a massive database, patients in the MedVR Education simulations are similar to real-life humans.  
How does it work?  
A typical MedVR Education open scenario simulation is set in a realistic healthcare set up with a virtual patient. The user is expected to ask the patient a set of questions to which the patient responds. Based on the patient feedback, the user askes further questions until the user is satisfied to have got all required details to form a diagnosis.  
The entire process is made possible by a combination of technologies. Here we have Natural Language Processing (NLP), Automated Speech Recognition (ASR), and Machine Learning at play. NLP is further divided into Natural Language Understanding (NLU) and Natural Language Generation (NLG), both performing their function at two different stages. NLU helps the machine understand the learner's question while NLG helps formulate an appropriate answer. All these technologies come together to give the learner a thorough and effective training solution.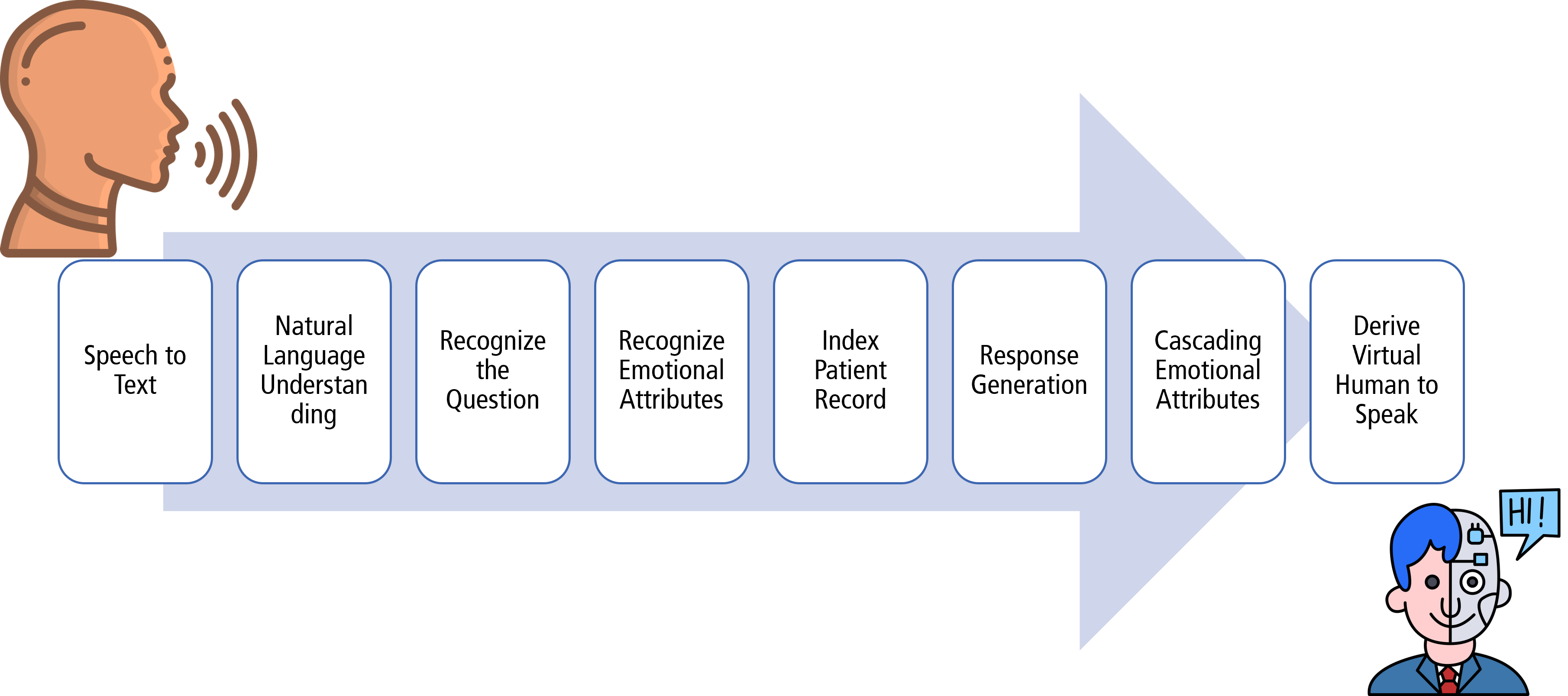 A graphic representation of what it takes for a human and AI to interact.
Benefits of AI-based Open Scenarios
How does AI-based patient assessment help in healthcare training?  
Interaction skills: When it comes to interacting with patients, every patient will respond to a given question in a varied manner. Interacting with virtual patients helps the user practice the skills of framing questions that will lead to desired answers. Based on patient feedback, users will also learn what follow up questions to ask.  
Accurate diagnosis: Outcomes of initial patient assessments depend largely on the patient's feedback to questions. This helps healthcare practitioners arrive at a conclusion and decide what further steps to take. Asking relevant questions presents learners with certain responses on which the learner can base their inferences and learn to perform accurate diagnosis. 
Relevant treatment: When learners ask relevant questions, they will be presented with appropriate answers. Based on these answers the learner will diagnose the patient and decide upon the line of treatment to adopt. When questions are relevant and feedback leads to an accurate diagnosis the next outcome would be relevant treatment. 
Safe environment: MedVR Education's open scenarios are safe learning environments since the patients being diagnosed are virtual patients. If the user makes an incorrect diagnosis, it will not lead to life threatening consequences.  
Benefits of MedVR Ed's AI-based Patient Assessment Tool
MedVR Education's open scenario simulations come with an added benefit of customization. Powered by the AI-based Patient Assessment Tool, these scenarios can be customized by organizations to build custom patient cases suitable to specific training needs. The tools packs in a list of unique features. 
No code authoring: No-coding and no technical knowledge is required to use this tool. 
Device compatibility: These solutions are compatible to run on VR, desktop, and mobile devices.  
Easy-to-train virtual patients: Patient responses can be customized and sample dialogs added to train the language understanding machine. 
Deep-data analysis: Continuous analysis of thousands of user conversation texts is done to improve the language understanding and speech to text conversion. 
Sentimental analysis: Based on user's questions, sentiments can be analyzed and results included to form patient's answers. 
Case management dashboard: The tool comes with an easy-to-use case management dashboard to create, update and modify patient history data. 
The end goal of every healthcare professional is to provide the best possible patient care. This comes with a lot of quality training, practice, and experience. It takes years to build experience but quality training and practice opportunities can be created and made available. Integrating conversational AI with virtual reality is one of the most effective ways to make this possible and help prepare a team of highly efficient healthcare professionals. 
 Contact us to know more about AI-based patient assessment in VR open scenario healthcare training, or visit  MedVR Education to explore the various programs we offer.