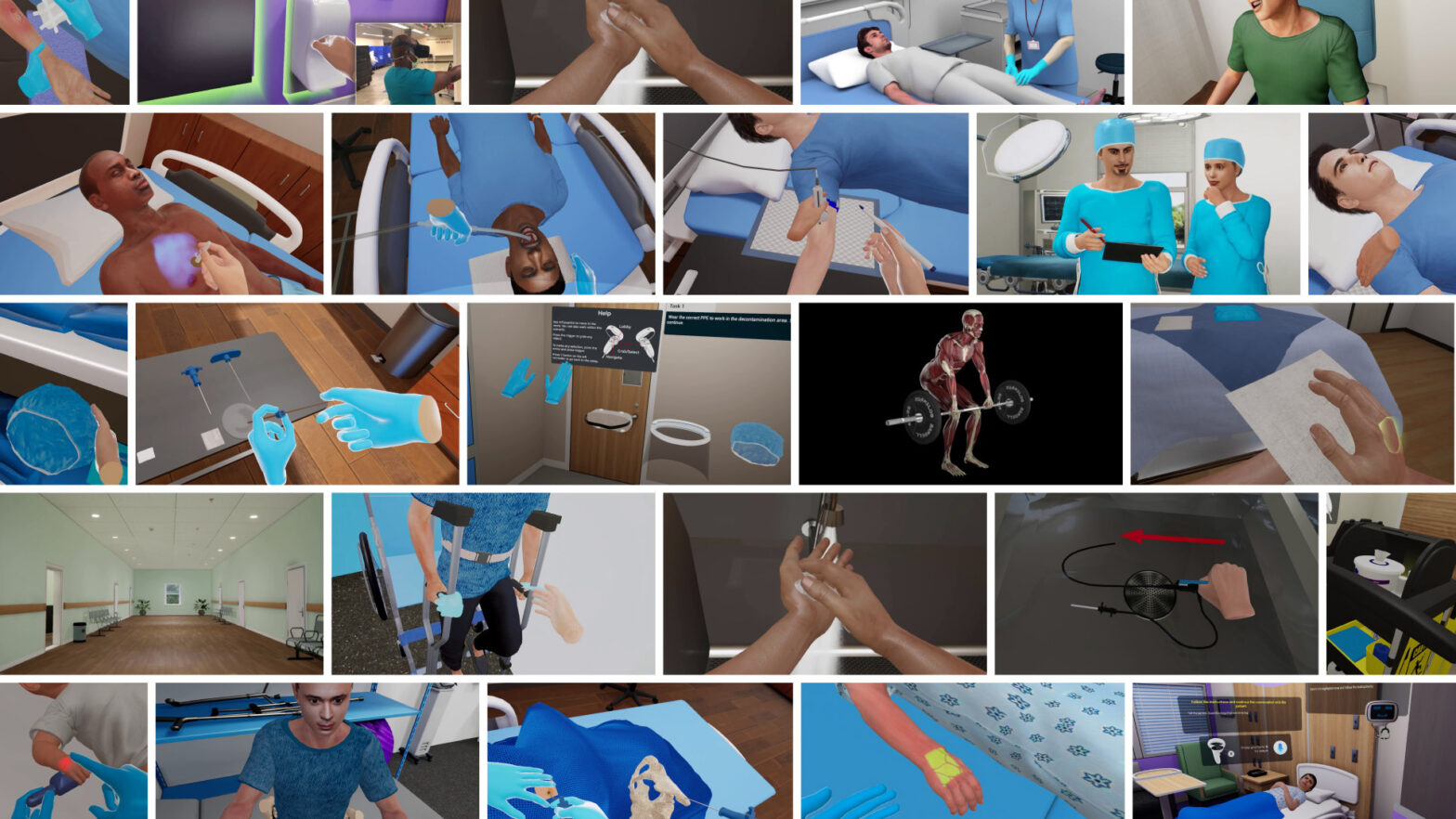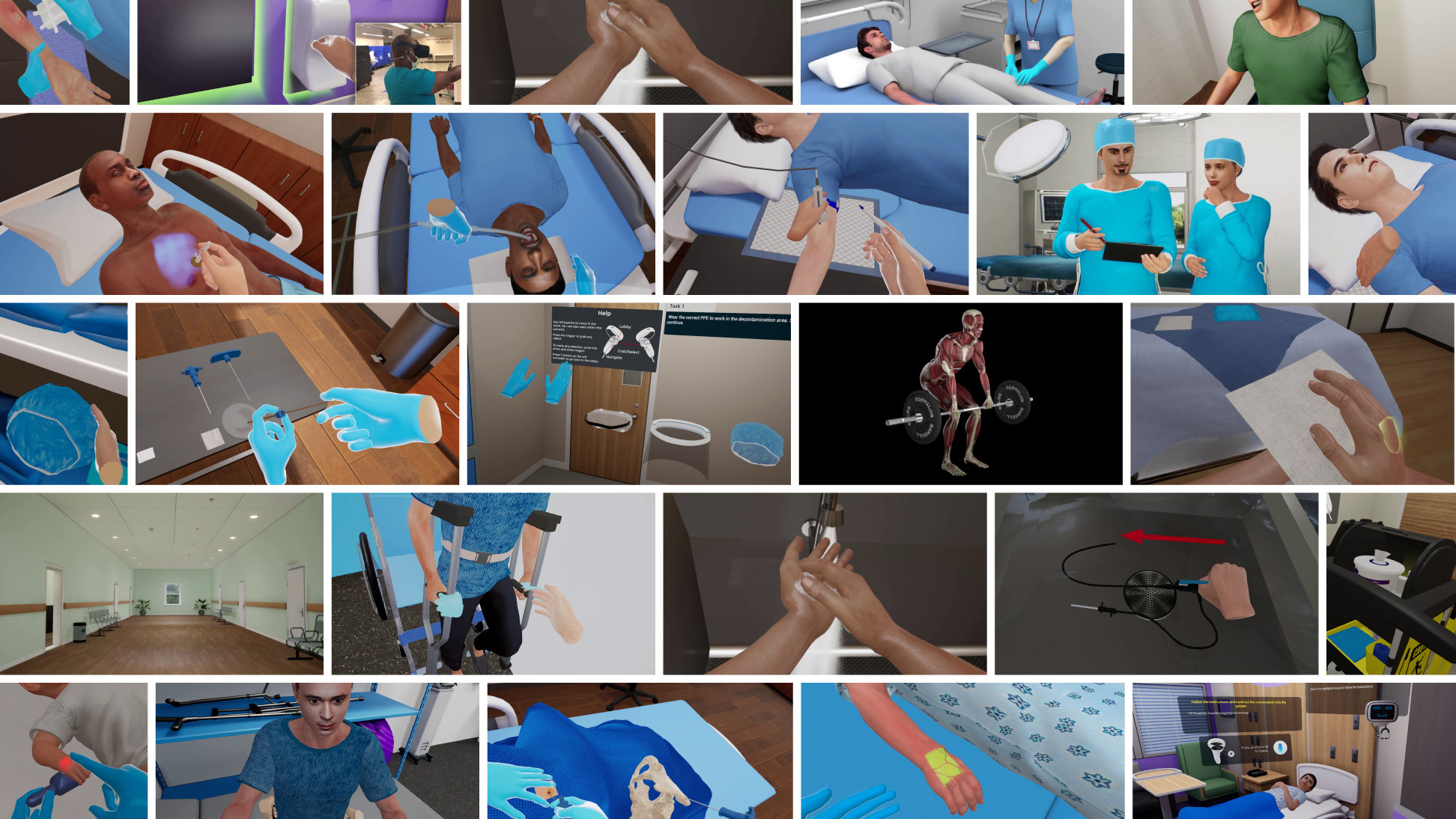 What is VR Simulation Training?
VR simulation training is designed to provide learners an immersive, distraction-free and experiential learning opportunity. It can comfortably be accepted that effective training in any field can be achieved when these features are perfectly blended and aligned. Scenarios in a virtual environment are created to replicate real-world situations. Learners become part of the learning scenarios, interact with the environment and perform tasks as they would in a real-world situation. This form of training is widely being adopted by industries across domains like retail, automotive, aviation, construction, to name a few. Another field that is increasingly making use of VR simulation for training purposes is the healthcare sector. 
VR simulation training in healthcare
 Healthcare training is as much about theoretical knowledge as practical. Mere excellence in theoretical knowledge is not enough. Practical knowledge with experience helps create seasoned professionals who perform with confidence. Practice sessions with moulages or mannikins and apprenticeship have been the preferred ways to gain practical knowledge and experience. While these methods have been largely effective they do have their limitations. Maintaining mannikin facilities to train large groups of learners is expensive and time-consuming. Working as an apprentice may or may not help gain an all-around experience. Besides, it may expose learners to infectious diseases. 
VR simulation training, on the other hand, delivers on all accounts.  
– Realistic experience – Scenarios in virtual reality environments are created to provide learners realistic experiences. Be it a hospital set-up or a case of emergency at a specific location, each environment is carefully designed to replicate a real-world situation. The moment a learner straps on a headset, they are immersed in a scenario that requires them to perform tasks that are essential to the situation.  
– Reduced training time – According to a report, learners practicing in VR environments tend to learn four times faster than other modes of training. This could be attributed to its immersive nature. Another contributing factor could be the action, effect and instant feedback method of learning.  Every action performed by a learner has an effect and feedback is instantly provided to review their action. 
– Zero-risk training – It's a virtual environment with a virtual patient and no one is at risk here. A novice learner treating a patient may perform a wrong step but the patient is not harmed. A patient may be carrying a highly infectious virus but the healthcare professional will always be safe. Consequences will be pointed out and feedback given to take precautions or improve methods but no real damage will be done. 
– Mistakes are lessons – What went wrong and what can be done to prevent it in the future? Mistakes in real-life can be catastrophic but in VR simulations every mistake becomes a teacher. With the consequences of mistakes clearly visible, learners can evaluate their moves and make amends in the next attempt.  
Bridging the gap between real and virtual worlds 
 Like any other emerging technology, VR too has had to prove its mettle. Having delivered outstanding results on a number of parameters, it is paving its way in the field of training and development. It is being complemented in its journey with a number of technological advancements. Each of these developments are inching towards bridging the gap between real and virtual worlds taking VR simulation trainings to a whole new level. 
– Artificial intelligence – AI has been around for some time now but the recent launch of ChatGPT proved to be a game changer in the world of AI. Now with AI enabled virtual patients it is possible to converse with a patient like one would with a real human. Patient assessment practice can become more accurate, helping learners prepare for all kinds of communications. Moreover, with improved communication skills learners will be better skilled to diagnose accurately and treat effectively. 
– Metaverse – The metaverse can prove to be an excellent place to step into virtual environments, connect with other learners and trainers, share knowledge and experiences, and perform tasks as a team. No doubt the metaverse is still in its very nascent stages but the possibilities of creating training environments are promising. Geographical boundaries can be overcome, and the flow of knowledge can become faster and more effective.   
– Haptic feedback – A common complaint, if we can call it complaint, of those opposing VR training especially healthcare was that it lacks the sense of touch or haptic feedback. Not anymore. With haptic gloves now a reality the virtual world has come a step closer to the real world. Now learners interacting with virtual patients in the virtual world can get haptic feedback for their actions in the real world. How much pressure to apply when administering CPR or when performing a chest tube insertion? With haptic feedback learners will be able to practice with precision and accuracy. This will further help build muscle memory. 
 VR simulations are proving to be an effective means of learning, practicing, gaining confidence, and preparing for real life challenges. The immersive nature of training means distraction-free sessions which leads to better retention and real-life application.